Hushmat sound damping products succeed in doing what other brands claim to:  "Hear better Sound! Get more Bass! Kill the vibration! Stop the rattles!" Hushmat's 21+ years of manufacturing excellence provide outstanding sound damping properties that other brands can only aspire to!  Their products adhere to almost any suface with little  surface preparation and will work well in nearly any environment found on Earth!  Check out the variety of products that Hushmat manufactures to make your ride quieter, cooler and your audio system sounding great!
Hushmat Ultra
Hushmat Ultra is more than your typical  sound deadening product.  Sure it deadens vibrations and makes any system sound significantly better.  On top of that, it offers up to 4X the performance of other brands!  In other words, it works better than others!  It will stick to almost anything and requires little if any surface preparation.  It molds to almost any contoured surface making for a better damping and vibration control.  Ultra effectively damps most of the low frequency "noise" in your vehicle.
When properly coupled with an audio system, you can expect the following improvements:
Increase the power of your amplifier by eliminating energy absorbing vibration.
You will hear more bass!
You will experience more defined mid-range!
Lower the distortion caused by vibration and road noise.
Dare to Compare Hushmat Ultra to Dynamat Extreme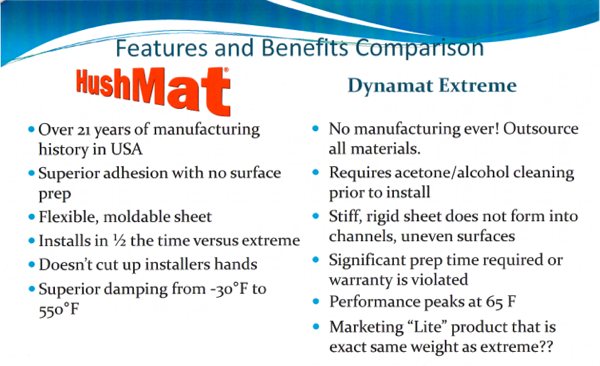 Hushmat Megabond Silencer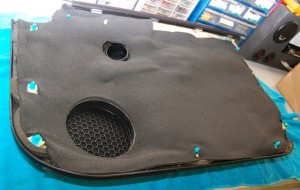 What Ultra does for low frequency sounds and vibrations, Hushmat Silencer Megabond does for the higher frequencies.  Silencer Megabond is designed to absorb, wind, road, engine and exhaust noises from 600Hz all the way up to 4000Hz.  When applied to to your door panels, floor pan and headliner, you will be amazed at how much quieter and plush your ride will be! In addition, Silencer Megabond's thermal insulation makes your ride cooler in the Summer and warmer in the Winter!  Silencer Megabond is available in 3 different thicknesses with varying degrees of sound absorption.
Hushmat Quiet Tape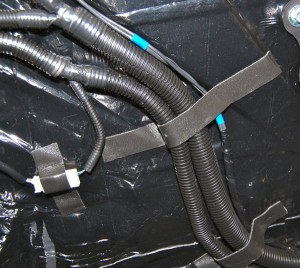 If you are running new wiring in your vehicle, you need to have a trustworthy way to secure it. Duct tape isn't the best answer.  It will get old and brittle and could eventually cause issues with the install.  Wire ties aren't the best either because they can crack in the cold or rattle around in the doors, headliner, etc. Mobile Edge has the perfect solution in Hushmat Quiet Tape.  Quiet tape will hold wiring snugly in place in all temperatures and environments.  Not to mention it substantially cuts down the possibility of rattles and reduces wear and tear on the wiring.  Mobile Edge recommends Hushmat Quiet Tape in all installations where additional wiring will be run.
To quote the manufacturer's website "HushMat vibration damping, thermal insulation, sound absorption and tape materials create a Quiet, Cool & Comfortable ride."  That is exactly what it does! And Mobile Edge can prove it.  Our Lexus IS250 demo vehicle is completely treated with Hushmat.  Stop in for an audition!  You are sure to be impressed!