Mobile Edge in Lehighton is well-known for our wide variety of Compustar remote starter models. Our team takes pride in ensuring that every client gets the perfect starter solution that meets their needs and range requirements. This solution-based approach to serving our clients is one of the reasons why we have been named as one of the Top 50 mobile electronics retailers in North America for the past few years.
Our technicians are fanatical about our remote starter integration process. Each electrical connection we make is soldered to ensure maximum reliability and performance. We protect connections with 3M vinyl tape, then harness everything with tesa cloth tape for that factory look. All of our workmanship is backed by a lifetime warranty for as long as you own the vehicle.
Here are our different remote car starter solutions.
One-way Remote Car Starters
CS910-S – The new Compustar CS910-S system includes a pair of one-way, one-button remote controls. This system is a perfect addition to an automatic transmission vehicle that has a factory keyless entry system. The system offers 1x power range, which is about 500 feet in the real world.
CS920-S – The CS920-S is very similar to the CS910-S, but includes a pair of four-button, one-way remote controls that provide a little more range – around 700–800 feet in the real world. We call that 2x power range. The dedicated buttons make it quick and easy to access the locking, unlocking, starting and trunk release options.
1WR3-AM – If you have a manual transmission vehicle, then the 1WR3-AM (also known as the PRIME R3) remote car starter is your best value. The system offers 1x power range and the remotes feature a durable water resistant case and has the secure Compustar manual transmission starting sequence.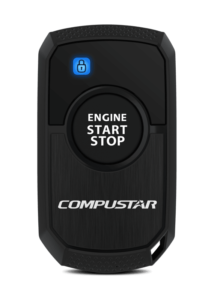 P1WR3-FM – If a one-way, one-button remote fits your application, but you need more range, then the new P1WR3-FM is the perfect solution. 6x power range provides control up to 3,000 feet from your vehicle. All PRO systems include a three-year warranty on the remotes.
P1WG15-FM – The new PRO one-way G15 adds four button control to the PRO R3 one-way system. The biggest difference to most users will be instant access to the trunk release. If your vehicle has power sliding doors, then this is a perfect solution.
Two-way Remote Car Starters
2WR3-FM – The 2WR3-FM is part of the two-way communication Compustar PRIME series. The system provides LED confirmation of locking, unlocking and remote start requests right on the small remote control. Superior 6x power range is achieved thanks to Compustar's new FMX transmission technology.
2WT9-FM – The PRIME T9 is a new, aggressively priced two-way LCD remote car starter solution for this season. The LCD display provides graphical feedback and confirmation that your vehicle has received and executed the command you request. The 2WT9-FM can be upgraded with a siren and shock/motion sensor to protect your vehicle.
P2WR3-SS – Using the same digital spread spectrum technology as the flagship PRO T11 remote, the new PRO R3 two-way communication, one-button remotes provide an awesome 20x power range. That's up to 2 miles of communication range. You can start your vehicle long before you can even see it, so it will be toasty and warm on even the coldest of days.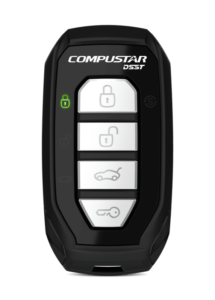 P2WG15-SS – As the upgrade to the PRO R3, the PRO G15 includes a pair of two-way, four-button remote controls that also provide the incredible 20x power range. LEDs and a an audible beeper on the remote confirm that your vehicle has started and is locked, and will let you know when the runtime runs out.
PRO T12 – None can match the 30x power range of the Compustar PRO T11 – the mother of all remote car starter solutions. This LCD remote control takes durability to a new level with a rechargeable IPX-7 main remote control that is rated water- and dust-proof.  The updated PRO T12 solution includes one 2-way LCD and one 2-way LED remote.
Compustar DroneMobile – Thanks to DroneMobile, you can remote start your car with an app on your iPhone or Android phone. Optional systems include speed and location-based alerts using an integrated GPS receiver. You won't ever have to think about range again with DroneMobile in your vehicle.