Lighting is one of the most fun categories we sell at Mobile Edge in Lehighton. We like it for multiple reasons. You can add exterior lighting to allow you to see better at night and to dress up the cosmetics of your vehicle. Interior and exterior LED accent lighting add a beautiful touch to any vehicle. Replacement headlight and foglight bulbs from Piaa, or our newest technology – LED headlight bulbs – are sure to make you more confident at night.
Whatever you may consider, lighting on a vehicle is made up of electrical wiring and custom fabrication, two things that we have been specializing in since 1994.
Off-Road Lighting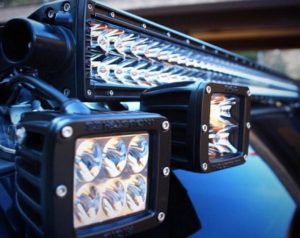 Off-road lighting has become incredibly popular with the development of LED technology. Over the last few years, this technology has hit its stride. Now, most of the new lights coming out are all LED-based. Mobile Edge has the ever-popular light bars in sizes from 4" that tucks neatly away in your front bumper to the 54" models that mount at the top of your windshield. We have them in all shapes and sizes, and multiple brands, so we are sure to have what you need.
Once you have decided to get some off-road lighting, you need a secure way to mount it. We have mounts to hold lights in factory foglight locations, bumpers, grilles and windshields. If you own a Jeep – wow, do we have lots of places for lights! Since Mobile Edge offers in-house fabrication, we can often make custom brackets to mount your lights if off-the-shelf models are not already available.
Truck-Specific Lighting
Do you own a truck, but wish you could see inside its bed at night? No problem – we have several different ways to illuminate your bed, making it safer and easier to use at night. Maybe you would love to see better when backing up, or have some exterior lighting to help you set up your campsite at night or for that late night project? We have you covered.
Trust The Lighting Experts At Mobile Edge
Once you have decided on your lighting, you want to partner with a shop that can give you a quality install and understands the current needs of these new lights. Many folks will buy lighting and not give any thought to how they are going to power them. Our team are experts at knowing the limits of a vehicle's charging system, and we understand proper fusing, wire gauge and relay design. When you add all of that up and include our soldered, loomed and properly secured wiring, the choice becomes clear: Mobile Edge is the place to go.
Stop By Today To Learn More About Lighting Options For Your Vehicle
We invite you to stop by our store in Lehighton, Pennsylvania, with your vehicle so we can get to know each other better. One of our staff will look over your vehicle with you, listening intently as you explain your goals for upgrades. Once we have finished our discussion, we will work up complete, installed solutions that best fit your needs.
You can also contact us here for more information about any of our products and services.