If you own a truck or SUV, one of the biggest enhancements you can do to your vehicle is change the bumpers or add front protection, such as a a grille guard or bull bar. Mobile Edge has more than 40 combined years of experience in the automotive industry. When you add our legendary prowess in electrical wiring, we are your one-stop shop in this category.
Bumpers make one of the biggest visual changes on a vehicle. When you add a rugged black bumper to the front or rear of your vehicle, it instantly draws attention. Not only do these bumpers give your vehicle a bold new look, they also do a great job of protecting it. Now, if someone backs into your vehicle, all you get is a scratch while their vehicle's bumper crumples in front of you.
Front Bumpers
Front bumpers are a popular first step for many people. On popular vehicles, Mobile Edge has several brands, along with many different styles to choose from. You can get everything from a naked bumper to one with a fully integrated grille guard. All of our bumpers are designed to hold additional off-road lighting, with some designed to hold three to four sets.
Bumper-Mount Winches
For the ultimate in looks, performance and vehicle recovery, we offer bumpers designed to hold a winch front and center. When you consider that all these new lights and the winch will have to be wired, the team at Mobile Edge really starts to separate from the competition. Building upon our two decades of high-performance car audio installations, our team understands the current needs of your new add-ons and how to wire them properly for years of reliable use.
Rear Bumpers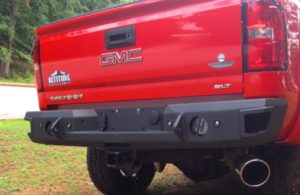 To finish off the look of your vehicle, we offer rear bumpers for popular models of trucks. These continue the rugged theme from the front bumper to the rear of your truck, and often come equipped to hold extra lighting for your reverse lights. Just like the front bumper, they do a great job of protecting your vehicle from damage. To be clear, if someone hits one of our rear bumpers, they will get the sort end of the stick. We have seen many vehicles come away from an accident with only some paint scratches, while the other vehicle looks like it hit a brick wall.
Our team members are also experts at retaining your factory-installed parking sensors – we have been installing them in vehicles for more 10 years.
Grille Guards
Grille guards are another popular addition to the front of your vehicle. They come in two basic styles: functional and cosmetic. The functional styles work just as they sound. They are designed to protect the front of your vehicle from damage when using it off-road, if you're in an accident or when working around the farm. They are made of thick steel and mount securely to your bumper. They have wings that come off the sides of the center section to protect the edges of your grille and your headlights from damage.
Grille Guard Lighting
You can add off-road lighting to the grille guards for better vision during nighttime driving or that next off-road adventure. The cosmetic units look a lot like the functional models, but are not as beefy. While they do offer some damage protection, they are best for giving your front end the look at a lower price point.
Bull Bars
Bull bars are another popular front end product. Essentially, they are made of round tubing that starts underneath your bumper, heads up toward your hood, runs parallel with it and then extends back down underneath your bumper on the other side. Popular finishes are black and stainless steel. When you couple a bull bar with a nice set of off-road lighting, it gives your vehicle a classy look that makes it stand out from the crowd.
Pre-Runner Style Accessories
The pre-runner style first got popular more than 30 years ago, and is getting popular again. N-Fab seems to be leading the charge with some great products, and their pre-runner–style bumpers and light bars transform the look of any truck, making it look like it is ready for the Baja 1000 race.
When you are ready to add any of these exciting products to your vehicle, we invite you to stop by Mobile Edge with it. One of our team members will look it over with you and help you choose the products that best suit your goals for the vehicle. We will then back them up with an installation that meets or exceeds the quality of the vehicle itself.
You can also contact us here for more information about any of our products and services.