Whether you need improved lighting for your ATV or a stereo system for a side-by-side, the powersports upgrade experts at Mobile Edge in Lehighton are here to help. Our experience in enhancing automobiles with reliable, high-performance accessories doesn't stop when the pavement ends. Whether you're on two or four wheels, we have solutions to make your playtime more enjoyable, more convenient and safer.
Powersport Audio System Upgrades
Mobile Edge's mobile enhancement experts have upgraded countless side-by-side vehicles with new speakers, amplifiers, radios and even a subwoofer or two. Our solutions are designed specifically for these applications. They aren't just water- and UV-resistant like marine products; they're tailored specifically to fit each vehicle perfectly. We have speaker pods and subwoofer enclosures that bolt into your vehicle using factory fasteners so that no modifications are required.
These products can not only handle getting dusty and dirty or splashed with mud, they can withstand the constant vibration and impacts that occur while blasting down the trail. We extend this reliability to the way we route wires and cables and how we make electrical connections. Everything is safe, secure and, most importantly, easy to use.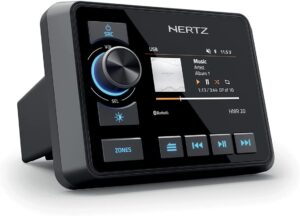 Our audio upgrades for powersports vehicles typically include a Bluetooth receiver that will let you play music stored on a smartphone or media player. You can even adjust the volume or change tracks without having to take the phone out of your pocket. You can also stream audio from services like Pandora, iHeartradio, Tidal or Spotify if you have cellular data service where you're off-roading.
Lighting and Accessories Upgrades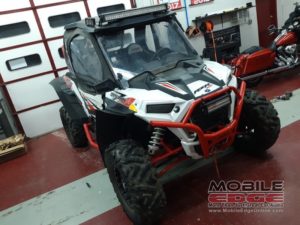 Another popular category is lighting upgrades for powersports vehicles. We have high-output LED light bars and light cubes that can illuminate the trail in front of you. The lights are weather-resistant and designed to handle the harsh conditions you'll find on the trails. We ensure that the wiring for the lights is secured correctly and that the controls are easily accessible. The last thing you want is to search around for a switch when you need extra lighting.
We can also provide accent lighting in the form of rock lights, LED-illuminated whips or RGB LED lighting for inside or underneath your vehicle. Many solutions include Bluetooth remote control options that let you use your smartphone to change colors or flashing patterns.
Visit the Powersport Upgrade Experts at Mobile Edge Today!
If you want to make your time on your powersports vehicle more fun with a great audio system or more functional with a lighting upgrade, drop by Mobile Edge in Lehighton and speak with one of our experts. We'd be happy to inspect your vehicle and suggest a sound system, lighting or accessory solution that meets your needs.