Why Choose Mobile Edge For Your Remote Car Starter Installation?
Remote Car Starters, Automatic Car Starters, "Those Clicker Things"…. It doesn't matter what you call them, Mobile Edge is the place to go for quality remote car starter installations. Having installed literally thousands of remote car starters, we have the experience to properly install one in your vehicle, even a standard shift!  And Mobile Edge installs only the very best: Compustar Pro.
Mobile Edge is the authority on 2-way remote car starters, smartphone integration, and we can even allow you to start your car from your Apple Watch and Amazon's Alexa!  Welcome to the next generation of remote car starters.
With Remote Car Starters, Installation Quality Is The Key
The most important part of a remote starter is the installation. Today's vehicles are complicated and it is important that a trained technician installs your remote starter.   Transponder Keys, Factory anti-theft systems, and multiplexed door locks are just a few of the things that we have to be intimately familiar with.  Do not trust your remote starter installation to your expert neighbor! We have gone through countless hours of training and have the backing of the best remote starter company in the world when we need technical assistance.
 Remote Car Starters And Your Vehicle's Warranty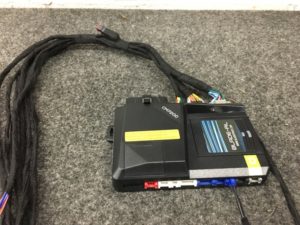 HAVING A REMOTE STARTER INSTALLED DOES NOT VOID A VEHICLE WARRANTY!!! PLEASE CLICK HERE TO LEARN MORE! If your Car Dealer tells you that the installation of after market equipment will void your warranty, CALL US! We will set them straight!
Our customers come from as far away as Allentown, Pottsville, Hazleton, Wilkes-Barre, and Stroudsburg to have the experts at Mobile Edge provide a professional remote car starter installation. One of our customers even drove 1300 miles to have us work on their vehicle!   In fact, this same client made a second trip to Mobile Edge to get a remote starter in their next vehicle!  It is not unusual for us to get  customer referrals from Manhattan, Philadelphia, Binghamton or State College!
Once you have a remote car starter, you will never want to be without one!
We Wrote the Book on Remote Car Starters… Literally!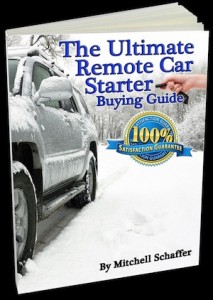 Mobile Edge owner, Mitch Schaffer, published the e-book "The Ultimate Remote Car Starter Buying Guide."  This book is filled with everything that you will ever want to know about buying a car starter.  Choosing the right shop, selecting the right features and much more are covered.  Check it out and if you buy the book, you will get $10 off of your remote car starter purchase at Mobile Edge and other Trusted Facilities around the country.
Mobile Edge Remote Car Starter Links
Visit our Remote Car Starter YouTube Playlist
Mobile Edge had a remote starter installation featured in a national magazine
Why a customer drove 1300 miles to have Mobile Edge install a Remote Car Starter
Check out our Top Ten List: Remote Car Starter Buying Guide
And also be sure to check out our Remote Car Starter Myths
Learn more about Convenience Features that can be installed with your remote starter
What are the Top 5 Mistakes People Make When Buying a Remote Car Starter
Mobile Edge is proud to offer the Compustar Pro line of Remote Car Starters
Mobile Edge owner, Mitch Schaffer, interviewed by national news organization about remote car starters.
Please CLICK HERE for some posts about remote car starter installations that we have done.
To see pictures of our work, please visit our FLICKR page for remote car starters
Check out our Remote Starter Channel on YouTube for answers to some common remote starter questions.