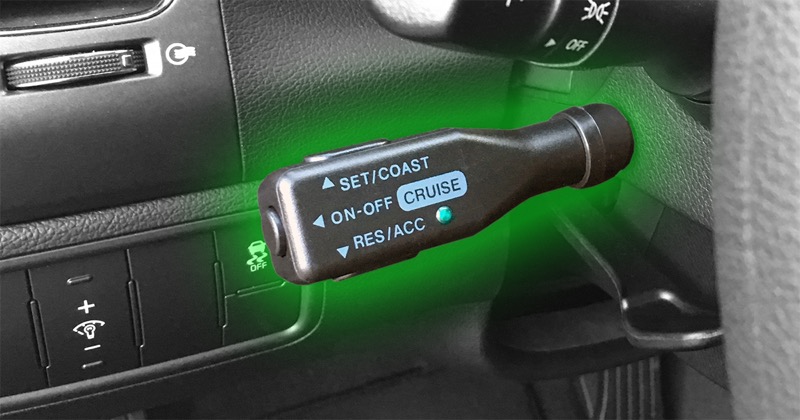 Did you know that we can add aftermarket cruise control to many new cars and trucks? While this feature is standard equipment on many higher trim levels, you may not want to spend thousands of dollars just for one function. Our OEM-quality cruise control upgrades integrate seamlessly with your vehicle to deliver a solution as reliable as if it had been installed at the factory. 
How Does an Aftermarket Cruise Control System Work?
Years ago, aftermarket cruise control systems had a mechanical connection to the throttle body or carburetor on the engine. The system would pull or release the throttle pedal to maintain speed. In the last decade or so, most new vehicles use what's called a drive-by-wire throttle system. An electronic signal from the gas pedal is sent to the engine management computer to tell it how much power you are requesting. The computer analyzes the request, then sends a command to a servo in the throttle.
Our cruise control upgrade systems are explicitly designed to work with these drive-by-wire vehicles to let you set the speed you want the vehicle to travel. Our upgrades include a controlled resume rate for smooth acceleration and one-mile-per-hour steps faster or slower to fine-tune your speed. In addition, as the system is entirely electronic, there's no need to worry about linkages binding or cables coming loose – everything uses discrete digital signals for the utmost reliability.
In many applications, our cruise control switch assemblies bolt directly into the factory location on the steering wheel or steering column. Many systems will even illuminate the cruise control indicator on the dash of the vehicle, so you'll know when the system is on.
Expert Installation Services Ensure Reliability
Mobile Edge in Lehighton, Pennsylvania, takes pride in the work we do. Before we pull a car into our bay, we install seat and steering wheel covers to ensure that interior surfaces are protected. Once in the bay, we go through a vehicle check-in process to make sure everything is functioning correctly. Next, we connect the battery to our charger so the vehicle will be topped-up while we work on it. Floor mats, fender covers, masking tape or sheeting are used on any painted surfaces to protect them from scuffs or scratches. "An ounce of prevention is worth a pound of cure" isn't just a philosophy at Mobile Edge; it defines every step of our installation process.
Once the cruise control hardware has been integrated into the vehicle, our expert technicians will put any panels or covers we've removed back into place and check them for alignment. We finish by going through our checklist again to make sure every system operates as well as – or better than – when the vehicle arrived at the shop.
Common Applications for Cruise Control
We offer drive-by-wire electronic cruise control systems for popular Chevrolet, GMC and Saturn vehicles including the Cobalt, Trailblazer, Silverado, Equinox, Montana, Canyon and Colorado. In addition, we have solutions for certain trim levels of the new Ford Ranger. Toyota vehicles such as the Corolla, Prius, Tundra, Tacoma, Yaris and Camry are also popular. Chrysler vehicles such as the Journey and Caliber, Dodge Dakota and Jeep Compass, Liberty, Patriot and Wranglers of specific years also have solutions. Several Volkswagen, Nissan, Mitsubishi, Mazda and Suzuki vehicles are also covered.
Upgrade Your Vehicle with Cruise Control from Mobile Edge in Lehighton
If you're interested in upgrading your car or truck with a computerized cruise control system, please drop by Mobile Edge in Lehighton and speak with a member of our team. We'll make sure a solution is available for your vehicle, and then we can schedule an appointment for one of our expert technicians to complete the integration process. If you can't visit our store during regular business hours, give us a call or click on the red icon below to send our team an e-mail.