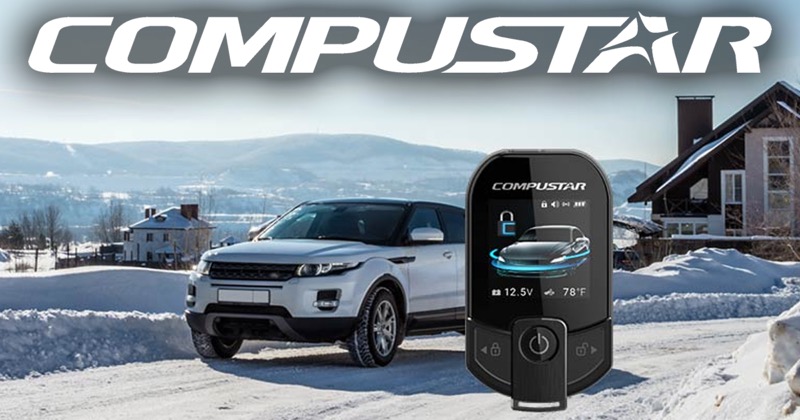 If there's a single product category that the Mobile Edge team is fanatical about, that would be remote car starters. We've been integrating top-quality starter solutions into our clients' vehicles for decades. So when it came to choosing the best brand to deliver fantastic performance and class-leading reliability, Compustar was the only choice.
Why Choose Compustar Convenience Systems
There are a half-dozen reputable brands of car starters in the market. Our goal for choosing the right brand was to find a company that delivered products that work exactly the way they claimed. Compustar remote starter, security and convenience systems are designed and, more importantly, tested here in the United States to ensure that every component is as reliable, efficient and intuitive as possible.
Each system we install is based on a control module. The Compustar product development team works tirelessly to ensure that these components have the connectivity and configuration options we need to let you control your vehicle reliably. The hardware is also efficient, adding less load to your vehicle's electrical system. In addition, Compustar backs every unit with a lifetime warranty so that you can be confident in your investment.
Compustar Remote Car Starter Control Options
The Compustar line covers the entire range of control options, from affordable and easy-to-use one-button systems to class-leading long-range two-way LED and LCD screen remotes.
Our team will help you choose the best remote option to deliver the features and range performance you need. So whether you park your vehicle outside your home or office or need extra transmitting power to penetrate through walls and drown out electrical interference from an apartment or large office building, Compustar's remote start and security solutions will give you comfort and peace of mind.
When it comes to long-range communication, no brand outperforms Compustar's flagship T12 and T13 remotes. Using advanced digital spread-spectrum technology, these two-way LCD-screen units offer as much as 3 miles of range. That's 50% more than the nearest competitor.
What's two-way communication, you ask? With a conventional one-way remote, the message sent to your car or truck is like the remote for your TV – the signal is sent in one direction. With a two-way remote, the Compustar starter, convenience or security system controller in the vehicle broadcasts a confirmation message back to your remote, so you know when a lock, unlock or remote start command has been received and executed. You'll always know the status of the vehicle.
On high-end remotes, you can even check the battery voltage in the car or truck. Suppose we'd added a temperature sensor to a Compustar car starter. In that case, you can check the conditions in the vehicle, and we can even program the system to activate the rear window defroster, heated seats or a heated steering wheel automatically.
Unlimited Range with Drone Mobile
Whether you've chosen the confidence of a two-way remote kit or you're upgrading a one-way system, Compustar's DroneMobile smartphone telematics system ensures that you are always in control of your vehicle. DroneMobile uses the cellular phone network and an app on your Apple or Android smartphone to let you lock, unlock or remote start your vehicle. Command requests are confirmed back to your phone, so you'll know the vehicle status all the time.
Each DroneMobile module includes a GPS receiver. If you've chosen one of the Premium or higher service plans, you can track your vehicle on your phone, so you'll always know exactly where it is. These locating features are an excellent solution for families with kids who borrow the car or companies with a fleet of vehicles. In addition, you can configure after-hours and over-speed alerts so that you can monitor the vehicle.
Security Systems and Upgrades
Most Compustar control modules can be easily upgraded with class-leading security features. Their amazing DAS-II security sensor detects impact, tilt, motion and glass breakage. If you have a DroneMobile system or one of the Premium two-way remotes, you'll be notified immediately if the security system has been triggered. Of course, door, hood and trunk monitoring are standard on most applications, and we can add additional monitoring inputs for commercial vehicle storage solutions to keep your equipment safe.
Class-Leading Manual Transmission Remote Starters
No remote starter brand in the industry has a safer system for manual transmission vehicles than Compustar. Every car starter we install in these applications includes the DAS-II sensors. If the system detects the vehicle lunging forward when starting, it shuts everything down instantly. Of course, the system includes a convenient "reservation process" that ensures that the vehicle has been closed with the transmission in neutral. If the doors are opened before you start it, nothing will happen.
Class-Leading Remote Warranty
As a Compustar Pro dealer, we have access to every model in the Compustar starter, security system and convenience line. A one-year warranty backs most remote kits. Pro Series remote solutions include a three-year warranty. Once again, this brand exudes quality and reliability – that's why we chose it as our exclusive solution. A lifetime warranty backs the control modules, and our team stands behind every installation we do for as long as you own the vehicle.
Visit Pennsylvania's Remote Car Starter and Security System Experts
If you're shopping for a remote car starter, we invite you to visit Mobile Edge in Lehighton. A member of our team would be happy to demonstrate what makes our solutions and installations different from the rest. We'll help you select the perfect system to start your car from almost anywhere, and our installers will integrate it into your vehicle so that it operates seamlessly and reliably. For more information or to schedule a personal consultation, give us a call or click the red button below.