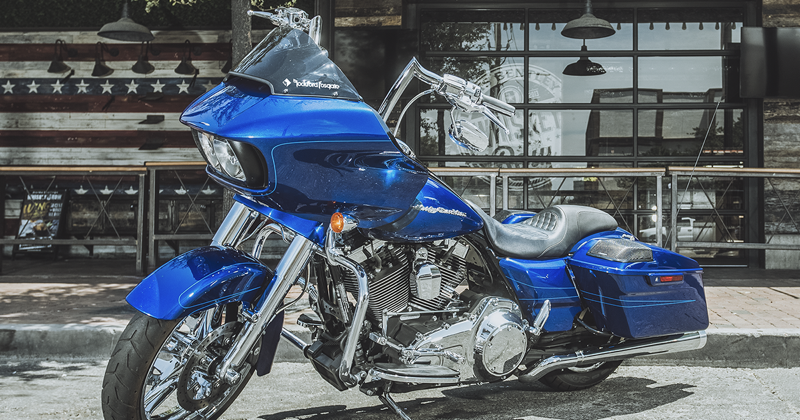 No brand is more synonymous with motorcycle audio system upgrades than Rockford Fosgate. Since 2018, Rockford Fosgate has worked hard to develop speakers, amplifiers, source units, subwoofers and even installation accessories to ensure that every second in the saddle is as enjoyable as possible. Mobile Edge in Lehighton, Pennsylvania, is proud to offer this prestigious brand to our store to provide motorcycle audio system upgrades.
What Makes Rockford Fosgate Products Unique?
Rockford Fosgate's brand slogan is Purpose Built Audio. What does that mean? First and foremost, all Rockford Fosgate products are designed at the company headquarters in Tempe, Arizona. They don't just come up with a concept and call an overseas factory to put the parts together – they design the heatsinks, circuit boards, speaker baskets, voice coils and subwoofer enclosures. Once prototypes are assembled, the product experts in the Rockford Technical Training Institute (RTTI) install them in real-world applications to evaluate their performance. If everything meets the goals, production begins. If something needs to be tweaked to improve performance, the process repeats. 
Very few audio companies in the world work this way. Why does it matter? Rockford Fosgate's experience, combined with state-of-the-art testing equipment like the amplifier PowerCube and Klippel speaker evaluation hardware, helps them design audio upgrade solutions that sound amazing, fit better and last longer than the competition.
Rockford Fosgate Motorcycle Speakers
Speakers are the most essential part of any audio system. Rockford Fosgate developed their Power-Series TMS speakers specifically for motorcycles. These aren't repurposed marine speakers. The drivers are available in 6×9 (TMS69), 5×7 (TMS57), 6.5- (TMS65) and 5-inch (TMS5) sizes to fit all the typical motorcycle applications. The drivers are based on high-temp, glass-reinforced polymer frames and carbon-reinforced polypropylene woofer cones for tight bass and accurate midrange. The tweeters are ultra-efficient film-dome designs that deliver impressive output to ensure that your music will be crystal clear and drown out wind and exhaust noise. Most importantly, all the speakers are Element Ready – meaning they can withstand prolonged UV exposure, dust and rain, so you know they'll last for years and years.
High-Power Weather-Resistant Amplifiers
Great speakers are of no use without an amplifier to power them. Rockford Fosgate's M5 series of amplifiers builds on the foundation of the Power Series compact car audio amplifiers. The M5 amps are available in four-channel, five-channel and monoblock subwoofer solutions, but the M5-800×4 is easily the most popular for motorcycle applications. This amp can produce an effortless 100 watts of power from each channel simultaneously with excellent sound quality. The M5 amps are Element Ready and feature an IPX6 water-intrusion rating, so you know they'll sound great and last for years.
Motorcycle Source Unit
If you have an older Harley-Davidson touring bike like a Road Glide, Street Glide or Electra Glide, then the PMX-HD9813 multimedia receiver is designed just for you. Based on Rockford Fosgate's class-leading marine source unit designs, this radio drops right into the fairing and plugs directly into the factory wiring. It includes a bright display and a large rotary volume control. It can work with the thumb controls on the handlebars. Equipped with an AM/FM tuner, Bluetooth audio streaming and a USB port for phone charging or a memory stick filled with your favorite tunes, this radio has it all.
Harley-Davidson Audio Upgrade Kits
While we can put together a premium audio system upgrade for almost any motorcycle on the road, Rockford Fosgate has developed several Harley-specific products. Their Saddlebag lid speaker kits make it easy to add rear speakers to virtually any Harley-Davidson touring bike. Rockford Fosgate's amplifier installation kits include mounting brackets and wiring and an advanced heatsink that helps improve system reliability. Of course, all the connectors are OE-grade and designed to plug into the factory wiring to maintain the electrical system warranty on a new Harley touring bike. Nobody in the industry comes close to what Rockford Fosgate offers for Harley-Davidson touring motorcycles.
Our Expert Installation Delivers the Ultimate Performance
Motorcycle audio components require expert installation to function correctly. Mobile Edge's team of mobile audio technicians has the training, experience and tools needed to integrate every component into your motorcycle to deliver the best sound possible with the utmost reliability. We double-check that every electrical connection and fastener is perfect before a bike leaves our shop to ensure that you'll be happy with your investment.
If your bike requires something custom, we have a complete wood and composites fabrication shop, along with in-house welding equipment, to ensure that we can deliver a solution that will exceed your expectations for fit and finish and performance.
Upgrade Your Motorcycle Audio System at Mobile Edge
If the stereo system on your motorcycle isn't enough to drown out the wind or exhaust noise, drop by Mobile Edge in Lehighton, Pennsylvania, and talk to one of our audio system upgrade experts. They would be happy to design and install a solution that will sound amazing. If you can't get to our store, give us a call or click the red icon below to send us an email.