Mobile Edge in Lehighton has been offering backup cameras since the category began. We are committed to the driver safety category and to bringing you the best-value, most-reliable products on the market. When you couple that with our award-winning installation department, the result is a solution that improves your driving experience. Whether you drive a car, truck, SUV or commercial vehicle, we have you covered.
Backup Cameras Come in Many Different Styles
First and foremost, backup cameras are not a one-size-fits-all product. Mobile Edge sells many different styles of cameras to have a solution that works best for your needs.
Do you own a truck? Chances are, we have a tailgate handle solution that integrates a backup camera into it, just like a factory unit.
Do you own a coupe, sedan or SUV? We offer license plate-mounted cameras as well as models that mount into the lip above your rear tag.
Do you own a pickup truck? Maybe you would like a cargo camera that allows you to see in your bed while driving. You can keep an eye on your cargo or possibly that fifth wheel hitch.
If you own a commercial vehicle, we have solutions specifically designed for this environment with multiple fitment options, including roof-mounted cameras.
Display Options Galore
At this point, you need a way to display the image of the camera inside your car, truck or SUV. Mobile Edge has four solutions available to you.
1. Integrate with Your Factory Screen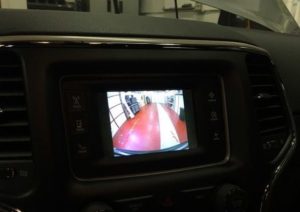 If your vehicle came with a color screen in the dash, there is a good possibility we can integrate the image to display right there, giving you a factory look that many of our clients desire.  We partner with a number of vendors that offer interfaces specifically for adding video input to factory screens.  Consult with one of our backup camera professionals to see if we offer integration solutions for your vehicle.
2. Replacement Rearview Mirror
Another popular option is to replace your existing rearview mirror with a new one that has an integrated LCD monitor. Under normal conditions, the mirror looks just like your factory model. When the vehicle is placed in reverse, the monitor comes to life, displaying the image of what's behind you.
3. Upgraded Stereo System
If you drive an older vehicle or a model that was a lower trim level, you may be missing out on modern technology. Our team can often install a new touchscreen stereo system in your dash that can display the image from your backup camera. When you go with this option, you can add these optional features: CarPlay, Android Auto, Bluetooth, GPS navigation, satellite radio, USB ports and aux inputs.
4. Stand-alone Monitor
For some vehicles, none of the options above is a good solution. They also might not work with a commercial truck or van. In these instances, we offer stand-alone monitors in different shapes and sizes. You can rest assured we have a model that will fit your needs.
Add a Front Camera
Did you know we can add a front camera to your vehicle? More and more people are enjoying the benefits of a front-mounted model to help them with parking or navigating tight spaces.
Blind Spot Camera Solutions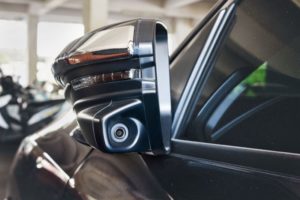 Now that you have a solution to display a camera image in your vehicle, did you know we offer blind spot camera systems that help you know if someone is in your blind spot when you're driving? The images can display right on the same monitor and are triggered by your turn signals. Click HERE for more information about our different types of blind spot systems offered by us.
Get a Driver Safety Consultation
The next step in getting a backup camera system for your vehicle is to have a driver safety consultation with one of our expertly trained staff. They will look over your vehicle and get to know how you use your vehicle over the course of an average week. At that point, the team at Mobile Edge will offer you the best backup camera solution for your needs.
Let us show you why we are the most-awarded mobile electronics retailer in Pennsylvania. You can also click HERE for more information about any of our products and services.