Did you know that Mobile Edge in Lehighton can install aftermarket heated seats in almost any vehicle? Imagine remote starting your car and having the seats warm up for you automatically! Say goodbye to shivers and be warm, cozy and comfortable.
Heated Seat System Overview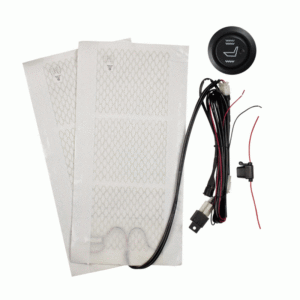 Our heated seat kits include carbon-fiber warming elements for the bottom and back of the seat. They are flexible and conform to the seat cushion so you will barely notice them. The warming elements are thermostatically controlled, so you will be warm and comfortable.
The control switches can be set to start warming up your car, truck or SUV as soon as you start it. If you have a remote starter, the warming process gets a head start – long before you arrive at your vehicle.
We use one kit per seat to give you and your passengers individualized control over comfort levels. We can even install heated seats in the rear of most vehicles.
Premium Installation
When it comes to installing heated seats, nobody does it better than Mobile Edge. Our expert technicians will remove the seats from your vehicle so we can work on them safely on our bench. We remove the leather, vinyl or fabric and install the heating pads using high-strength adhesive. If your seats have occupant detection systems, we can work around those to ensure your vehicle's airbag system continues to operate flawlessly.
Once the heating pads are in place, we reassemble your set. We use real metal hog rings to secure your upholstery in place – not zip ties like some shops. Our dedication to quality installation then turns to routing wiring and installation of the control switches. We solder all of our electrical connections and protect them with premium vinyl electrical tape, Tesa cloth tape or heat-shrink tubing. We use an electrical power source that can provide the current that our seat heaters need. All of our wiring is concealed and protected from damage by moving parts. Proper wire routing is paramount to the long-term reliability of a heated seat kit installation.
Choose the Features You Want
If you are buying a new vehicle, seat heaters are often an expensive option because they are bundled with items like leather upholstery or dual-zone climate control. Nobody wants to be forced to pay for options they don't really want, or pay too much for ones they'd like.
Learn More about Heated Seats at Mobile Edge
If you are interested in adding seat heaters in your car, truck or SUV, then drop by Mobile Edge. A member of our team would be happy to inspect your vehicle to confirm that we can add heating elements and work around any occupant detection systems. Click on the Contact Us button below or call 610-377-2730 to set up your fee, in-store consultation.