Mobile Edge in Lehighton is a driver safety expert, and one of our most popular categories is parking sensor systems. They are among the simplest and most-effective ways of knowing what is behind you. You can prevent accidents and injury by having us install them on your vehicle.
How Parking Sensor Systems Work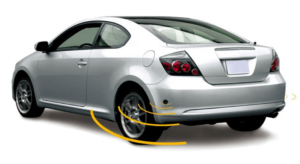 Our team of skilled installers will flush-mount sensors into your rear bumper that are around the size of a quarter. Inside the vehicle, we hide a speaker that is used for audible alerts, and a visual display if you choose that option.
When you put your vehicle in reverse, the system emits a single beep to alert you that the sensors are working. As you back up, at approximately 6 to 7 feet away from an object, you will hear a slow beep. At approximately 3' away, it moves to a fast beep, and around a foot away it goes to a constant beep. If you add the optional display, it gives you a visual graph of how close you are getting to something behind you.
Depth Perception that is Unaffected by Weather and Light
If you have ever used a backup camera, then you know that snow and rain can affect its ability to provide a clear image. When you are in a dark parking lot, camera performance also suffers. The good news is that parking sensors use ultrasonic waves that aren't affected by weather or lack of light, so their performance is very consistent.
Quality Products and Expert Installation
When you choose to buy a driver safety device, you want to know it is going to perform as advertised. Unfortunately, lots of consumer electronics products are built on a promise, not actual technology. Mobile Edge hand-selects and tests every product we offer to our clients so you can rest easy, knowing it will perform as advertised.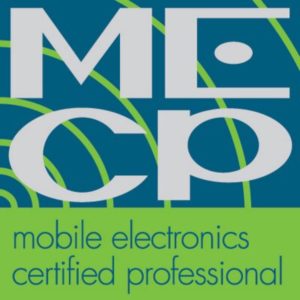 You also need a shop that can perform a quality installation. If the sensors aren't positioned properly, they won't work well. If a shop makes substandard connections, they will fail over time. We employ only MECP-certified installers and are proud to have a Top 50 Installer in the Nation on our staff.
What does all this mean to you? It means we will sell you a quality product coupled with an expert installation, designed to last for years and years.
Front Sensor Option
If you commonly have to park your vehicle face-in, we can also install parking sensors upfront, helping you to avoid damage to your car and things around it.
Add a Camera for the Ultimate in Safety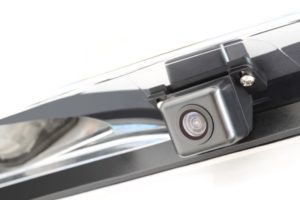 For the ultimate in safety when backing up, you can add both a camera and a parking sensor system. Now, you will have a clear view of what is behind you, coupled with the depth perception only parking sensors can provide. If you already have a camera, we can surely add sensors, giving you the ultimate in safety.
Get a Driver Safety Consultation
We invite you to stop on by Mobile Edge with your car, truck or SUV. One of our team will look it over with you and listen as you explain how you use it over the course of an average week. We will offer you a solution designed to meet your specific needs. Let us show you why more and more people turn to us every year for their parking sensor systems.
You can also click HERE for more information on any of our products and services.