If you own a truck or SUV, you know that they can be more difficult to get into and out of than a car. The good news is that there are dozens of styles of truck steps to make your life easier, and the folks at Mobile Edge are experts in this category. We will work with you to find the steps that best fit your style, you needs and your budget. Here are some of our most popular products we sell in truck steps.
Power Steps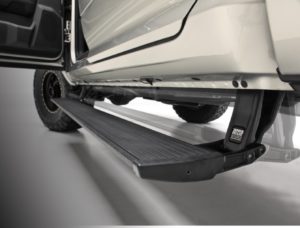 Power steps continue to grow in popularity. They came on the scene several years ago and have slowly risen in use as more people have found out about them. The concept behind them is pretty simple: When you are not using them, they retract up against the vehicle, almost invisible to the naked eye. If you are the kind of person who likes the clean, classy look of your vehicle now, these are perfect for you. When you walk up to your vehicle and open one of the doors, the steps will motorize down in less than a second. You now have a wide, secure place to step on when you enter your vehicle. What makes these steps even better is how far down they come, with all models dropping six inches and, in some cases, a nine-inch drop step is available. That is incredible. When you close the last door, the steps will retract back up against the body after two to three seconds. The icing on the cake is integrated LED lighting that illuminates the steps and the ground below at night, so you can be sure of where you are stepping.
Nerf Bars
Nerf bars have been on the market now for decades. What started out as a round 3" tube has morphed into round, oval and square tubing in sizes ranging from 3–6" in diameter. The tubes start behind the front wheel and run to either the end of the cab or wheel well to wheel well. The two most popular finishes are black and polished stainless steel.
N-Fab Bars
N-Fab–style steps take nerf bars to the next level. They start out with a round tube that sits close to the cab and add a stirrup step that extends down and out from the body. You end up with a very rugged, manly look that is very popular these days. They come in three different styles:
Cab length, where the bar is the length of the cab, and there are steps at every door.
Wheel to wheel, where the bar runs the full length between the wheel wells and has steps at each door.
Cab length, which is like the wheel-to-wheel style, but adds a third step to allow easy bed access.
The N-Fab steps come in three popular finishes: gloss black, textured black and polished stainless steel.
Running Boards
Running boards are where it all started in truck steps and have been making a comeback. The original, diamond-plated running boards are still available for many trucks and are preferred by farmers, ranchers and commercial vehicle owners for their strength and durability. The newer running boards are molded, sleek designs that fit well with the more rounded body styles of modern SUVs. They start out behind the front tire close to the body and flare out to give you a wide, secure step area. They go back in close to the body in front of the rear tire. Our most popular finishes are black and polished stainless steel.
Trust The Truck Accessory Experts At Mobile Edge
Deciding to buy a set of truck steps is only half the battle. Now you need someone you can trust to steer you toward the best-valued brands, and you want an installer you can trust. Mobile Edge has been proudly serving our clients here in Pennsylvania for more than 20 years, and we are experts in this category. Consider this your official invitation to stop by our facility with your vehicle. Let us get to know you better and understand your needs and desires. We can go out to your vehicle together and talk about what models will fit best for you cosmetically. At that point, we will offer you what we consider to be the best solution for you. And we will back it up with an installation that will give you years of uninterrupted use.
You can also contact us here for more information about any of our products and services.