If you are in the market for any exterior accessories for your truck or SUV, you have come to the right place. Mobile Edge has been in business since 1994 and our staff has more than 40 years of combined experience in the automotive industry. We spend hundreds of hours every year attending the SEMA Show and other industry-specific trade shows in search of the best-performing, most-reliable products for our clients. Our goal is to do all of the legwork for you so all you need to do is come to us with an idea and we can turn it into a reality. Our dedication to our clients has made us one of Mobile Electronics magazine's most-awarded retailers in the nation these last 10 years.
Here are some accessories that might interest you.
Vent Visors
Vent visors, or rain guards, have been popular now for decades. They are made of smoked plastic and fit around the edges of your side windows, allowing fresh air in while keeping rain out. They also allow you to crack your windows with a lot less wind noise, which is another plus.
Bug Shields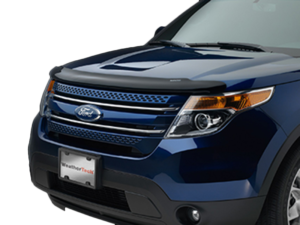 Bug shields, or hood protectors, are another smoked plastic product that has been around for decades. They get mounted to the hood of your vehicle, tight above the grille. When you are driving up the road, the shield deflects bugs and other small debris away from your hood and up and over your windshield, protecting you from damage while keeping the car looking newer for a longer period of time.
Fender Flares
Fender flares are popular for two reasons. Some people buy them just for their looks – they give any vehicle a more rugged, beefy look. If you installed larger tires that are sticking out past the fenders, adding fender flares will keep the tread covered, protecting the side of the body and potentially saving you from a ticket. Our flares come in black and camouflage, and can also be painted the same color as your vehicle.
Bed Caps
Side bed caps and tailgate protectors are just what they sound like: They sit on top of the side bed rails or tailgate on your truck, protecting it from damage while giving it a stylish, classy look. You can get them in black plastic and polished aluminum.
Side Bed Rails
Side bed rails sit on top of the bed of your vehicle, giving it a stylish look. Many models also incorporate tie-down points to give you an easy place to secure cargo while driving. Bed rails are available in stainless steel and black for popular trucks.
Replacement Grilles
Replacement grilles have been popular as long as vehicles have been on the road. They come in all different designs and finishes, and some even have LED lighting integrated into them. When you want to transform the look of your vehicle's front end, this is a great place to start.
Chrome Accessories
Do you like the chrome look for your vehicle? We have chrome dress-up items for your side mirrors, door handles, B pillars, tailgate handles, rain guards, bug shields and third brake lights.
Bed Steps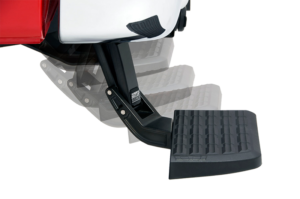 Once you own a bed step for your truck, you'll wonder how you ever lived without one. We have them for the rear of your vehicle, as well as ones that go on the side of your vehicle – both make it easier to access the cargo in your bed. When not in use, the bed step stays tucked up close to the body of your vehicle. When you want to use it, you simply push down on it with your foot and it springs down into place. When you are done with it, you simply give it a small push up and it springs back up into its retracted position. Using one couldn't be simpler.
Let Our Accessory Experts Meet Your Needs
We invite you to stop by Mobile Edge in Lehighton, Pennsylvania, with your vehicle. One of our team members will work one on one with you to find the best products for your needs. Should you need installation, our technicians are famous for their quality work, often exceeding the standards of vehicle manufacturers. Our company philosophy has always been to do it right the first time, believing that will save you money in the long run.
You can also contact us here for more information about any of our products and services.