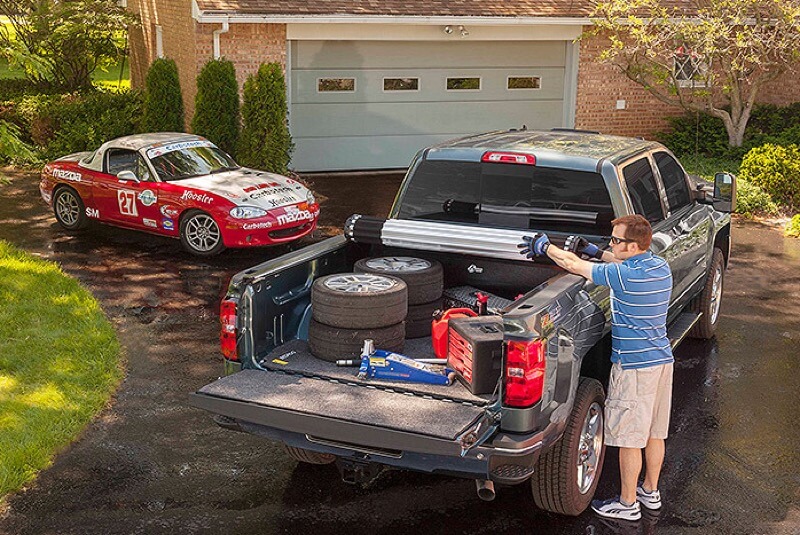 BAK Industries makes the world's most popular hard bed covers. More than a million Bakflip covers are on the road today. Mobile Edge is proud to offer this American-made line of products and has multiple models on display so you can see them live and in action.
Five Hard Folding Models
The hard folding line is made up of five different models; G2, MX4, Fibermax, F1 and VP. All of them share some basic similarities. They all feature a three-panel design, making them very easy to use. The rear panel, when locked into position, can't be opened without dropping the tailgate, keeping your cargo secure and weather-resistant. You can fold open one panel, two or all three. Two panels can be opened and held in place for transporting large cargo. If you need whole bed access, all three panels can be folded up against the cab and held securely in position so you can use your whole bed without having to remove your cover.
Folding Model Differences
Here are the basic differences between the covers. The G2 and MX4 are aluminum-skinned panels, with the MX4 adding upgraded latches, tailgate seals and load-bearing capability. The Fibermax and F1 models move to a fiberglass panel that doesn't dent like the aluminum panels. The F1 models share the same upgrades as the MX4 but add the upgraded panels. The VP model is for someone who likes the look of a one-piece vinyl cover but needs the performance of a solid cover.
Roll-Up Models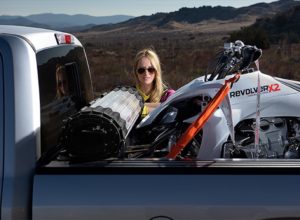 If a folding-style cover is not for you, but you need the security of a hard cover, the Revolver may be the answer. When this cover is closed, it looks a lot like the VP cover, with its one-piece, marine-grade vinyl cover. Underneath that vinyl, though, is where the magic happens. When you need bed access, you simply fold down the tailgate and pull the integrated release cord. The cover can now be rolled up toward the cab of the vehicle, giving you almost-instant bed access. Should you need to use the whole bed, it can stay rolled up against the cab and be secured into place. The Revolver won't block your rearward vision and is very lightweight, so it is the perfect cover for many people. When you are ready to seal up your bed, you simply roll it back out and push down on the latch, locking it into place.
Rack Integrated Models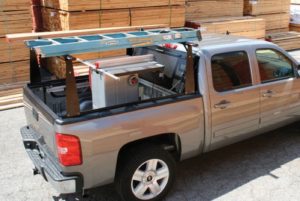 If you are a contractor and need a ladder rack along with a bed cover, the rack integrated series may be perfect for you. You gain a folding hard bed cover and an integrated rack in one solution. Now you can safely transport your tools and lock them securely, while still having room for your ladders, pipes or lumber on the top rack.  The rack height is set to clear the roof of your truck as well as the height of the cover when folded up.
Rollback Model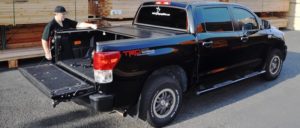 Finally, the Rollback series of retractable covers is perfect for someone who wants a retracting cover that is stored in a bed-mounted canister. It is very simple to use and has an elegant design.
Stop By To Learn More About Our BAK Industries Products
When you are ready to get that new bed cover, we invite you to stop by Mobile Edge in Lehighton with your truck. One of our experts will get to know you better and help you find the best solution for your needs. You can also contact us about any of our products and services by clicking HERE.