A telematics system allows you to remotely control a variety of functions of your car or truck using an app on your smartphone. You can be anywhere in the world and as long as your phone is connected to the Internet, you can lock, unlock or remote start your vehicle. With that said, not all telematics systems offer the same features and performance. We've created this comparison article to highlight the benefits of an aftermarket solution like the DroneMobile system we offer. Once you understand the differences, you'll be amazed.
Features and Functions of Telematics Systems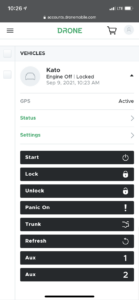 Let's start the comparison by discussing some options that factory-installed and aftermarket telematics systems offer. Most lock and unlock doors and are often integrated with a remote car starter. For example, our DroneMobile systems can activate a power trunk or tailgate release or open a sliding door on a minivan. The Compustar remote starter (that communicates with DroneMobile) can activate a rear window defroster or a heated steering wheel and seats if the temperature is at or below freezing. Some factory-installed telematics systems have an advantage in that you can remotely adjust climate controls. With that said, you're either going to have the heat or air conditioning cranked, depending on the weather outside. So that's not a significant consideration.
Vehicle Locating Functionality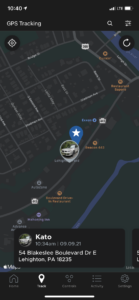 Though a few factory-installed telematics systems will show you the location of your car or truck on a map, they most certainly don't all offer this feature. One system that won't provide vehicle location information is OnStar. General Motors will only share the vehicle location with law enforcement agencies if your car or truck has been stolen. DroneMobile will show you the exact location of your car or truck every time you open the app. If a family member has borrowed the car, you'll always know where they are and how fast they're traveling.
Security and Damage Alerts
Tying these first two topics together brings us to the option of security features. Many new vehicles have anti-theft systems. These solutions won't alert the owner to vandalism or damage, broken windows or jacking to steal wheels or catalytic converter thefts. When we combine DroneMobile with the Compustar DAS-II multifunction security sensor, you'll receive alerts on your phone if any of these security zones are triggered. 
Another unique benefit of DroneMobile is the ability to set GPS-based warnings for after-hours use, possible towing alerts, over-speed conditions and even tow-away activity. These alerts arrive in seconds, so you're always in touch with your vehicle. If we add the DAS-II to your system, you may qualify for a discount on your car insurance.
Add Telematics to Any Vehicle
Whether we're upgrading a late '90s Toyota sedan with a remote car starter, or helping you keep an eye on 1960s classic car or hot rod, our DroneMobile telematics systems have you covered. You aren't tied into buying a new vehicle just to have the convenience of smartphone communication with your vehicle. As long as there is a battery and an ignition switch, you can use Drone to keep an eye on things.
Flexible Service Plans
DroneMobile makes picking a service plan easy. If you want door lock control and remote start functionality, the Basic plan is a perfect solution. If you want to add GPS-based functionality, then the Premium, Premium Plus or Ultimate solutions are the way to go. All of the plans will monitor the vehicle's battery voltage and let you know the temperature inside the car or truck.
Another important feature of DroneMobile is that it's easy to activate the service at any time. If you only want to remote start your car in the winter, you can pay for the plan from November to March. Of course, a remote starter is great on a hot summer's day to let the air conditioning cool off a hot car or truck.
While we're talking about plans, we should mention that DroneMobile has the option for an AT&T SIM card, or we can order a Verizon card if you live somewhere with poor AT&T coverage. Unfortunately, your car dealership can't offer the same options.
Command Response Time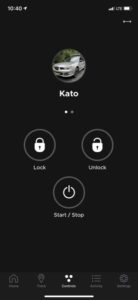 When it comes to the perceived quality of a convenience system, most consumers consider response time to be a key factor. Response time is the delay between when you press a button and when the vehicle responds to that command. We've installed hundreds of DroneMobile systems in our clients' vehicles. When you tap the lock or unlock button in the DroneMobile app, the command travels from your smartphone to the DroneMobile servers via the Internet. Once received, the message is authenticated, then forwarded to the vehicle using the cellular data network. If you have one of the new X1-LTE or X1-MAX-based systems, this entire digital trip takes two or three seconds to complete. We compared this to the factory-installed system in a Land Rover, which took more than 10 seconds. Nobody wants to stand beside their car or truck while a computer ponders whether or not to act on the unlock command.
Upgrade Your Car or Truck with DroneMobile
Suppose you want the ultimate in long-range control and convenience for your remote car starter. In that case, we invite you to drop by Mobile Edge in Lehighton and ask us about our DroneMobile telematics and Compustar remote car starter systems. We'd be happy to offer a demonstration, and our team can provide a quote to upgrade your car or truck with this amazing control and vehicle-locating technology. If you can't visit our store during regular business hours, give us a call or click the red button below to send our team an e-mail.