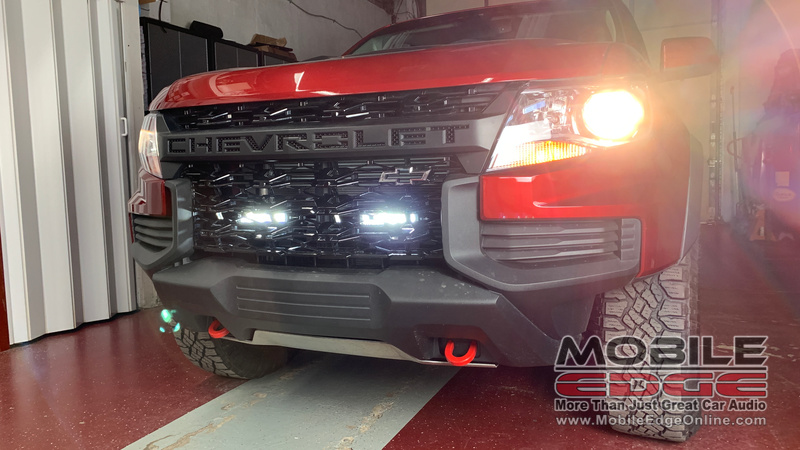 A client from Tresckow reached out to the Mobile Edge team to ask about improving his driving safety with aftermarket lighting and window tint. The client wanted tint across the top of the windshield to reduce glare. He also wasn't happy with the forward lighting that had come with the truck. After looking at the vehicle and talking with the owner about where and how he used it, we devised a plan to give him the upgrades he wanted.
Chevrolet Colorado Lighting Upgrade
The first part of the project was to upgrade the forward lighting on the truck. Many of the roads around his town are very dark at night. He wanted to see better but didn't want a big light bar on the roof or front bumper. After some research and a thorough inspection of the truck, we suggested that adding a pair of compact LED light bars behind the front grille might be a perfect solution.
We removed the front bumper and grille so that Ben, one of our amazing technicians, could mount a pair of Rigid Industries 906703 lights. We've used these SAE-compliant lights, with a lighting pattern that won't blind oncoming drivers, on several of our clients' vehicles. All the wiring is routed away from the parking sensors and cameras to ensure that nothing will cause interference.
The lights are mounted to the composite front bumper support, and we aimed them against the shop wall to ensure that they'd light the road safely. Their new switch is on the steering column's left side, and we configured the lights to work with the headlights so they can't be left on accidentally.
Windshield Eyebrow Tint
After we had the front of the Colorado back together, it was time to tint the top of the windshield. We added a 5% 3M window tint strip that many refer to as an eyebrow. This tint works like a giant sun visor to help the owner see when the sun is just above the horizon. As with all the tint upgrades we install, we use our computer-controlled plotter to cut the film, so we don't accidentally nick or scratch the windshield or any of the trim around it.
Carbon County's Automotive Upgrade Experts
After a few hours of hard work, we had this Chevrolet Colorado ready to hit the road. The client loved the additional output from the Rigid lights, and the window tint was precisely what he needed. If you want to upgrade your vehicle, drop by Mobile Edge and talk with one of our product specialists. If you can't get to our store in Lehighton, Pennsylvania, during regular business hours, give contact us or click on the red icon below to send us an email.
[58507]