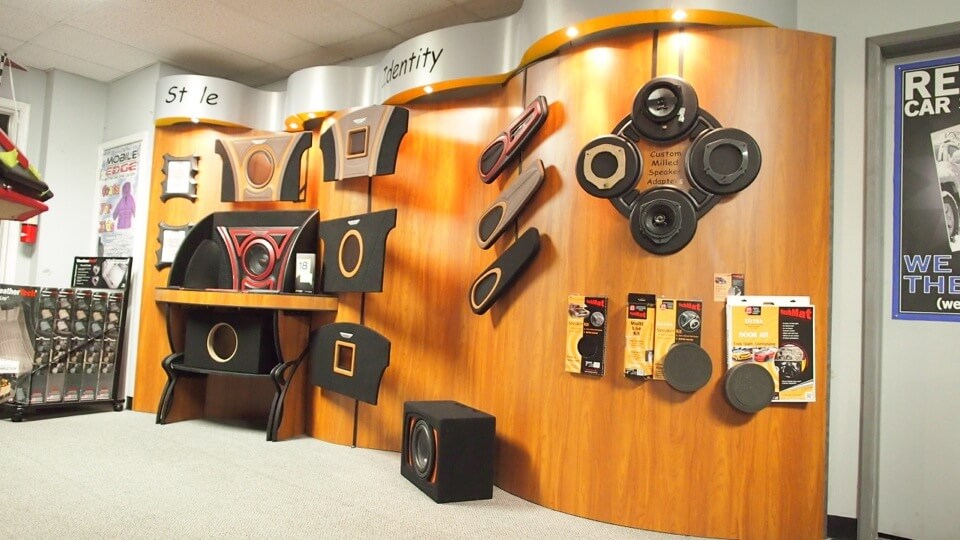 Mobile Edge is pleased to announce the unveiling of the custom fabrication display. It is a culmination of a multi-year quest to equip and train our technicians to be the best in the industry. We recognized that while our installations had always been of high quality, that we needed to make changes if we wanted to become a world class installation facility. Significant resources of time and money were spent completely remodeling and equipping our install bays with top of the line equipment. We then sent our team out for training by some of the best fabricators in the world. The fabrication display is designed to show our customers three major things;
1. Dedication To Excellence
This new display shows our dedication to excellence. Our speaker adapters are made of custom milled plastic that will not warp, flex, or absorb water. Most shops make these out of MDF, a wood based product that swells and deteriorates if it comes into contact with water. And we all know that a speaker in a door is going to see some moisture when it rains. The end result to our customers is a better sounding speaker with an adapter that will never fail.
2. Quality Construction
We have an interactive display that shows the build quality and attention to detail on our subwoofer enclosures. It shows our customers demonstrable differences in our enclosures. What the customer gains from this is a longer lasting, better sounding subwoofer system.
3. Various Trim Levels
Our new display shows off our three different trim offerings in our installations;
Utility
This is for someone that wants great build quality but is more concerned about functionality.
Hybrid
If you are a utility kind of person but also want some style to go along with your installation, this level is for you.
Enthusiast
This is our top of the line installation. Mobile Edge puts all of their installation prowess in designing and installing an audio system that is as beautiful to look at as it is to hear.
Swing By Today And See Our Custom Fabrication Display In Person!
We invite all of our existing customers and potential clients to stop by our facility and see this new display. It is our belief that once you see this display firsthand it will solidify to you that we should be on your short list of shops to consider for your next audio system. As always, feel free to contact us here for more information on any of our products.