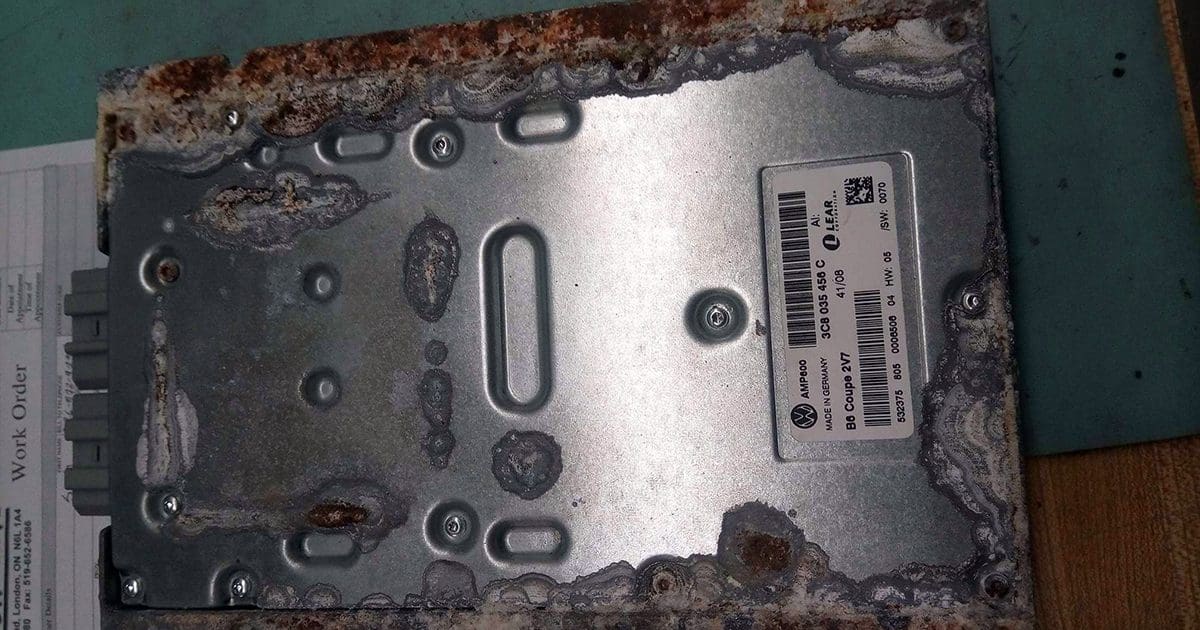 Water and road salt are known to wreak havoc on the body and underpinnings of our cars and trucks in the winter. Even living near the ocean, where salt levels are high, can accelerate the rusting process. In this article, with some help from the automotive electronic experts at Motron Automotive Electronics in London, Ontario, we'll talk about how water infiltration can cause serious problems with even relatively new vehicles. We'll also discuss a few options for protecting the electronics in your vehicle to help prevent water damage.
Electronics and Water Damage
Water and road salt are a nasty combination. The mixture seeps into the seams between body panels to cause rust in the corners of doors, around wheel wells and near fuel filler doors. If you're in and out of your vehicle often in the winter, your boots will track this nasty mixture into the vehicle's interior, where it can damage the floor.
With newer vehicles, automakers are often challenged when determining where to mount computers, control modules and entertainment system components. These parts often end up under the seats of a car, where they can come in direct contact with this evil and destructive salt water. The result is damage to costly components, especially audio system amplifiers. Likewise, small leaks around the roof or trunk of a convertible can allow water to drip down onto expensive and potentially hard-to-find electronics.
A quick look at the photo of this multi-channel amplifier and tuner module shows severe damage to the power supply and amplifier integrated circuits in this BMW 650i.
The owner of this Mercedes-Benz GL350 SUV shown above reported that the SiriusXM satellite radio tuner had stopped working. Water had soaked the carpet and seeped into the electrical connectors. A pin broke off during removal because it had severely corroded.
Lee from Motron tells us that vehicles like the VW Tiguan, Jetta, Golf and Passat frequently experience amplifier damage because the units are mounted to the floor near the front of the driver's seat. Water from melted snow can wreak havoc in a few years. This photo above is from a 2015 Tiguan. Depending on the vehicle trim level, replacing these amplifiers can cost between $750 and $900. That doesn't include labor to perform the installation and check the condition of the electrical connectors and system fuses.
This 2013 Porsche Boxster had what would be deemed a small water leak. The water collected on the floor under the passenger seat, where it seeped into the audio system amplifier and caused corrosion. Though it might be possible to replace these tiny surface-mount transistors, no vehicle manufacturer provides schematics for amplifiers at the component level. Likewise, the traces on the circuit boards are often damaged by water infiltration. A replacement amplifier could cost between $300 and $500, depending on the trim level of a vehicle like this.
The image above shows what used to be a ground connection for an aftermarket amplifier that was installed in a Kia sedan. The white "dust" is corrosion from the wire that had disintegrated. The shop that installed this amp used wire that contained a lot of aluminum rather than an all-copper conductor.
We should mention that many BMW and Mini vehicles have audio systems that include an 8-inch woofer under one or both front seats. While this might be a convenient location for producing bass in the front of the vehicle, it leaves them susceptible to water damage — the woofer in this 2013 5-series needed to be replaced for precisely this reason.
How To Protect the Electronics in Your Vehicle
Most of us drive our cars and trucks and only start paying attention when something breaks. Few of us have the time or patience to perform regular inspections to ensure that everything is operating correctly. Unfortunately, that's the only way to catch these issues. A quarterly inspection of the carpet is a good starting point. Lift the floor mats to make sure everything is dry. Check the cargo area in the back to ensure that no water gets into the spare tire area or the corners of the trunk. Look for traces of water having been there and get things resolved before something expensive is damaged.
For those living in the northern states, Alaska or pretty much anywhere in Canada, consider investing in floor mats that prevent water from snowy shoes and boots from getting into the carpet. Companies like WeatherTech, Husky Liner, U-Guard, TuxMat and Advent have vehicle-specific products that collect water, slush and mud. These mats protect the electronics in your vehicle and help keep the carpet looking new — and improve the resale value when it's time for a trade-in.
As with any accessory purchase for your vehicle, there are some questions to ask about these floor mats. What is their warranty? What does the warranty cover? Are they soft and flexible or rigid? How well do they fit the vehicle? Are there any openings that might cause leaks? How well does the color match the vehicle interior? It can cost a bit to outfit both the front and rear seating area, so make sure what you're buying is good quality.
Your local specialty mobile enhancement retailer should be able to answer the above questions for you and help you get a set of mats that perform well and look great. If you've waited too long or haven't noticed a water leak, these same shops might be able to help restore your audio system with an aftermarket amplifier or radio for significantly less than an exact replacement component from the dealership.
This article is written and produced by the team at www.BestCarAudio.com. Reproduction or use of any kind is prohibited without the express written permission of 1sixty8 media.