By now, most of us are familiar with dashcam systems. These compact video recorders mount discretely on the front windshield of your vehicle and automatically record everything that happens while you're driving. Hundreds of camera solutions are available, and many have a variety of upgrade options for secondary and tertiary cameras to monitor behind or inside the vehicle. If you're out on the roads, installing a dashcam is good insurance. Read on to learn why.
Why You Need a Dashcam
The video recordings from a dashcam are undeniable evidence of what led up to an event. If someone fails to stop at a red light or stop sign and runs into you, the camera will tell the tale. If an inattentive driver rear-ended you, you'd have a clear video of the entire event. Did you have to swerve to avoid a deer or raccoon? The camera captures it all.
While few, if any, insurance companies offer discounts for dashcams, the evidence they provide can save you hundreds, if not thousands, of dollars in premiums by proving you weren't at fault in the case of an accident.
While many vehicles from Subaru, Tesla, Cadillac and BMW come with dashcams, they are often limited in their resolution. They rarely include the ability to capture what happens behind or inside the vehicle. Our camera systems like the Momento M7 can record video streams from three cameras simultaneously, so you have a complete record of what happened before an incident. If you are a taxi, Uber, Lyft, Blacklane, Curb or Carmel operator, having a camera that records the vehicle's interior is paramount. If a driver is robbed or assaulted, the video evidence you can provide to the police is invaluable.
You'd think that staged accidents and fraud only happen in major cities. These planned collisions are just as prevalent in smaller towns because businesses have fewer cameras to capture what happened. These collisions are so frequent and common that they have their names like The Swoop and Squat and The Drive Down. You'll be held responsible without video evidence, and your insurance company will have to pay for damages and supposed injury benefits. A dashcam in your personal or work vehicle can confirm your innocence and help to put these fraudsters behind bars.
More Than Just Driving Protection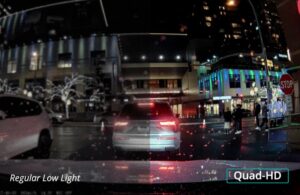 Our dashcam solutions have a built-in parking mode that allows them to monitor your vehicle when you are at home or work. After you shut off the ignition, the system monitors the camera image for motion. When it detects someone approaching your vehicle, it will store a video. The latest solutions use radar signals to monitor activity and dramatically reduce the drain on your vehicle's electrical system when the engine isn't running.
Protect Yourself with a Premium Dashcam System
If you're concerned about fraud and false accusations or want a way to capture "I can't believe that just happened" moments, drop by Mobile Edge in Lehighton, Pennsylvania, and talk with one of our product specialists. They can design a dashcam system that will offer the protection you need. If you can't get to our store during regular business hours, give us a call or click the red icon below to send us an email.