When it comes to upgrading the stereo system in your car or truck, choosing a vehicle-specific subwoofer enclosure is an efficient way to add impressive bass. Our prefabricated subwoofer solutions can save time and money while delivering excellent performance. Let's take a look at the options we have available.
Subwoofer Enclosure Options
Our fabrication specialists can undoubtedly design and construct an enclosure that's optimized for the subwoofers you've chosen and your vehicle. We can combine wood and fiberglass to maximize every cubic inch of space in your vehicle to deliver optimized performance. This process usually takes at least a day. Our Atrend and Bbox vehicle-specific enclosure options are a great alternative for those who want to be back on the road with a full audio upgrade in only a few hours.
Applications for Vehicle-Specific Subwoofer Enclosures
We have enclosures available for Dodge, Ram, Ford, GMC, Chevrolet, Toyota, Nissan, Jeep and Honda trucks, SUVs and cars. Our pickup truck solutions fit perfectly under the rear seat or against the back wall of the truck. They are available with a durable spray liner finish or carpet finishes.
These enclosures are optimized to fit each vehicle's unique contours so that no modifications are required to complete the installation. The enclosure volumes are optimized for the Hertz and Audison subwoofers we offer, so you'll get great sound and excellent reliability.
Adding a Subwoofer System Is a Perfect Upgrade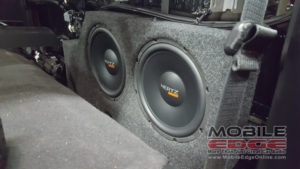 Adding a high-performance subwoofer system to your car or truck is one of the best investments in upgrading your car audio system's quality and performance. A subwoofer relieves the need for the small speakers in your vehicle to work hard. Eliminating bass from the small speakers improves their clarity and allows them to play at high volume levels while the large subwoofer takes care of low-frequency information.
While many people associate car audio subwoofers with the booming Fast & Furious systems from the '90s and early 2000s, our vehicle integration experts can fine-tune the system to deliver excellent extension and accuracy. Listening to music in a vehicle with a properly tuned subwoofer is like listening to a high-end home theatre system.
Pennsylvania's Car Audio Upgrade Experts
If you'd like to upgrade your car stereo's performance, drop by Mobile Edge in Lehighton and ask about adding a subwoofer using one of the vehicle-specific enclosures we offer. We'd be happy to let you audition one of our demo vehicles so you can experience just how amazing your favorite music can sound. If you can't visit the store, give us a call or send our team an e-mail by clicking on the red button below.