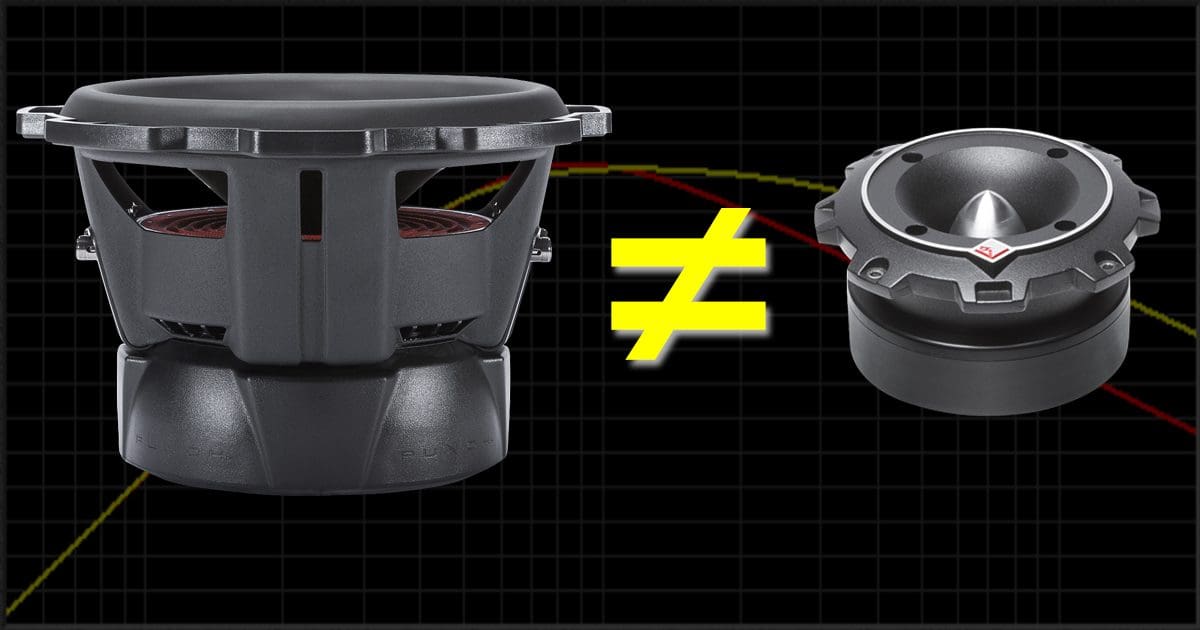 Subwoofers. Yay for subwoofers! No upgrade to a car audio system will deliver a more noticeable improvement in performance and realism. Adding a properly designed subwoofer system to your car stereo is often one of the first upgrades we recommend. The challenge is finding a solution that will look and sound great while you make sense of myriad specifications that might not be helpful.
Subwoofers and High-Frequency Performance
The motivation for this article was a story a friend shared about a client who had downgraded their selection of subwoofers based on the published frequency response of two solutions. Subwoofer A claimed to offer output up to 600 hertz. Subwoofer B, which is the model the client switched to, claimed output to 2 kHz. The client theorized that he could use the sub to fill in midrange frequencies if needed, and as such it was, therefore, a better solution.
On paper, the logic isn't wrong. But, in practice, that's not how subwoofers work.
Why Subwoofers Have Low Crossover Frequencies
We typically run subwoofers with a low-pass filter set between 60 and 80 hertz in car audio systems. If the car has smaller door or dash speakers, the crossover might need to be set as high as 100 hertz. With the typical crossover slope of -24 dB/octave, the sub's output would be attenuated by more than 50 dB by 400 hertz. The ability to play to 1 kHz isn't essential.
Why do we cross subs over so low? Well, we don't want to hear vocals coming out of them. Most subwoofers aren't designed to handle midrange frequency reproduction well. Most of us want the vocals to come from the front speakers in our cars or trucks. Since male voices extend to around 100 hertz, it makes sense for this information to be played by the door- or dash-mounted woofers in the system, not the subwoofer.
Why can't subwoofers play higher frequencies? There are two reasons. The first limiting factor is cone mass. A typical 10-inch subwoofer cone assembly weighs between 125 and 175 grams. That's a lot of mass to move back and forth 1,000 times a second. In fact, it just doesn't work. The cone can't switch directions fast enough to track the input signal at that frequency, so the output is attenuated significantly.
The second issue is inductance. The voice coil assembly on a subwoofer also acts as an inductor. As frequency rises, so does impedance. The result is less high-frequency output. You can learn more about inductors in this article (Link to BCA inductor article once published).
"Needs More Midbass"
While midrange performance isn't important for a subwoofer, midbass performance is crucial. Many subs on the market have cones heavy enough to limit their output at frequencies just above 100 hertz. This mechanical high-frequency filtering can make it very hard to get the phase response between the sub and the door speaker right. If the sub has some built-in mechanical attenuation and the technician working on your audio system adds some electrical filtering, the net acoustic result might not be ideal.
A subwoofer that can play an octave or two above the crossover frequency is important. Without that extension, the bass might sound disconnected from the rest of the system. Properly configured car audio systems deliver a smooth transition between the subwoofers and the woofers, which is crucial to reproducing music accurately.
Vague Frequency Response Specs Are Useless
We'll state in no uncertain terms that any frequency response specifications published without tolerance values are as helpful as trying to make a painting with a brush but no canvas or paint. For example, a manufacturer could state that a speaker will play from 20 Hz to 20 kHz. Most would think that's ideal, right? What if the output was down 40 dB at those frequencies relative to 1 kHz? Without a response tolerance, the information is useless. If you want to look at frequency response specs, a tolerance of 1 or 3 dB combined with low and high-frequency limits is required.
What Matters When Choosing a Subwoofer?
When choosing a subwoofer, the predicted frequency response is important. As we've explained repeatedly, a giant subwoofer in a small enclosure might not produce as much low-frequency output as a smaller subwoofer in the same space. Thankfully, we can use computer simulation software to predict the subwoofer's performance. Let's take a look at two subwoofers similar to what this client was considering.
Based purely on the Thiele/Small parameters of Subwoofer B, here's the subwoofer's response in a 1-cubic-foot sealed enclosure.
As you can see, the voice coil's inductance attenuates the high-frequency response of the driver. By 1000 Hz, it's down 17 decibels from its peak output at around 85 hertz. So stating that this driver plays up to 1.5 or 2 kilohertz is misleading and defies the laws of physics. What should matter is how much low-frequency information this subwoofer can produce. On the bottom end, it's down 3 dB at 50 Hz and 10 dB at 29 hertz.
OK, let's look at the original driver with the narrower published frequency response specifications.
The first thing our intrepid amateur car audio system designer should notice is that this subwoofer has a much flatter response through the midbass region. Why? This driver has an aluminum shorting ring built into the motor. The shorting ring helps to reduce inductance dramatically. The shorting ring also reduces cone-position-based changes in inductance that all speakers experience. Ultimately, the shorting ring dramatically reduces distortion. Both drivers deliver very similar output in this enclosure regarding low-frequency output. Does this mean they sound the same? Absolutely not.
How Loudly Does It Play?
A key component in designing a proper subwoofer system is ensuring adequate power handling based on cone excursion. To get a better understanding of the topic, you might want to read the BestCarAudio.com article on cone excursion vs. distortion.
If we look at the cone excursion vs. frequency graph for Subwoofer B, we see that it exceeds its rated Xmax specifications at all frequencies below 30 hertz when driven with 400 watts. The suspension components (spider and surround) are typically selected based on the voice coil geometry Xmax specification, so distortion is likely to become significant if pushed hard with a 400-watt amplifier. A power level of 275 would be safe at all frequencies in this enclosure, and keeping things under 200 watts is likely a good suggestion.
On the other hand, Subwoofer A has a much more significant Xmax specification. It's good at all frequencies at 400 watts and can handle 775 watts without the voice coil leaving the gap. This increased excursion capability allows Subwoofer A to produce significantly more output. It also means that Subwoofer A likely sounds clearer and more accurate when driven with 400 watts than Subwoofer B.
What Do We Need To Know About Subwoofer Frequency Response Specifications?
When buying subwoofers, frequency response specifications like 20-200 Hz or 25 Hz to 1.5 kHz are useless unless there is an amplitude tolerance specification. An applicable specification would be 25 to 300 kHz (±1.5dB). As mentioned in other articles (https://www.bestcaraudio.com/when-it-comes-to-subwoofer-specifications-some-numbers-dont-matter/), efficiency specifications like 85dB@1W/1M are also irrelevant, as they don't take into account how the enclosure affects low-frequency performance.
Suppose you want to know how a particular subwoofer will perform in your vehicle. In that case, the specialty mobile enhancement retailer you're working with should model the driver in the enclosure they will be using with BassBox Pro, Term-Pro, LEAP, WinISD or something similar. You can then look at the driver options to see how the predicted response and effective efficiency will change. Sadly, in the case of Subwoofer A vs. Subwoofer B, the client chose incorrectly. He missed out on a great subwoofer because he was misled by irrelevant information.
This article is written and produced by the team at www.BestCarAudio.com. Reproduction or use of any kind is prohibited without the express written permission of 1sixty8 media.