Mobile Edge in Lehighton is excited to announce that we've added 3M's new Ceramic IR tint to our vehicle styling and protection offerings. This state-of-the-art tint combines amazing heat-rejection properties that will help keep the interior of your vehicle cool and provide UV-blocking properties that protect you and your passengers. Of course, since it's a 3M product, you can also be confident that this window tint will continue to look great for years.
3M Ceramic IR Keeps You Cool
This new tint film is constructed with a nano-ceramic technology that blocks two-thirds of the total heat energy from the sun. On a hot summer day, the interior of your vehicle won't get as hot, and when you fire up the air conditioning, the vehicle will cool off faster and be easier to keep comfortable. Unlike films that use microscopic metallic particles to block heat, the ceramic construction of this film won't affect the reception performance of your cellphone, keyless entry system, portable navigation system or tire pressure monitoring technology.
UV Protection for Maximum Safety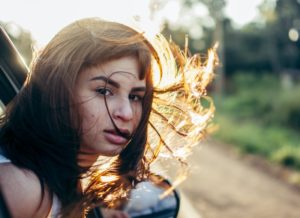 We all know that too much sun exposure is dangerous to our skin. Blemishes, wrinkles, sunburns and even permanent damage are all caused by prolonged UV exposure. This tint keeps you and your passengers safer by blocking 99% of UV energy from entering your vehicle. That's like wearing a sunscreen lotion with a Sun Protection Factor (SPF) of more than 1,000. If you spend a lot of time in your vehicle, a premium UV-blocking window tint is a great investment in your safety and that of your family and passengers.
The UV-blocking properties also help to extend the life of your vehicle. Plastics and leathers won't dry out and crack anywhere near as quickly when most UV rays are blocked. Likewise, upholstery and carpets won't fade. Quite simply, your vehicle will look newer for longer, increasing its resale value.
Reduced Glare and Great Styling
Does sunlight coming in from the side windows make it difficult to see? That's glare. 3M designed this film with a special low-reflectivity design that makes it easy to see out the side and rear windows while the tint reduces unwanted glare from the sun, streetlights or vehicles around you. You can see better and drive more safely.
The protective and comfort benefits of a premium window tint are becoming increasingly important, and Ceramic IR film is also designed to look great on your car or truck. When combined with our expert installation, your window tint upgrade is backed by a limited lifetime warranty that's covered from coast-to-coast. As the leader in window tint technology for more than 50 years, 3M films won't fade, turn purple, bubble or peel, so your vehicle will continue to look great.
Window Tint Adds Protection
Beyond the UV and IR blocking properties of a high-quality film, having your windows tinted helps conceal the contents of your vehicle. A dark tint film makes it very difficult to see what's in your car or truck, so it's safer to leave your laptop bag or purse on the back seat.
Protect and Enhance Your Vehicle with 3M Ceramic IR Window Tint
Window tint most certainly isn't just for looks anymore. The protective qualities are great for families with children or babies, the elderly, or anyone who spends a significant amount of time in their car or truck. Whether it's short drives across town or a vacation to another state, keeping your family cool and comfortable on a hot summer day can make the adventure much more enjoyable. The heat-resistant technology is also a great benefit to pets that ride along with you in the vehicle. It's also nice that your ice cream won't melt as fast on the way home from the grocery store.
If you are shopping for window tint for your vehicle, drop by Mobile Edge in Lehighton and talk to our team about the film options we have available. We would be happy to explain the heat-blocking features of each solution and help you pick a product like 3M Ceramic IR that will look great on your car or truck. For more information, give us a call or click the red button below to send us an e-mail using our contact form.