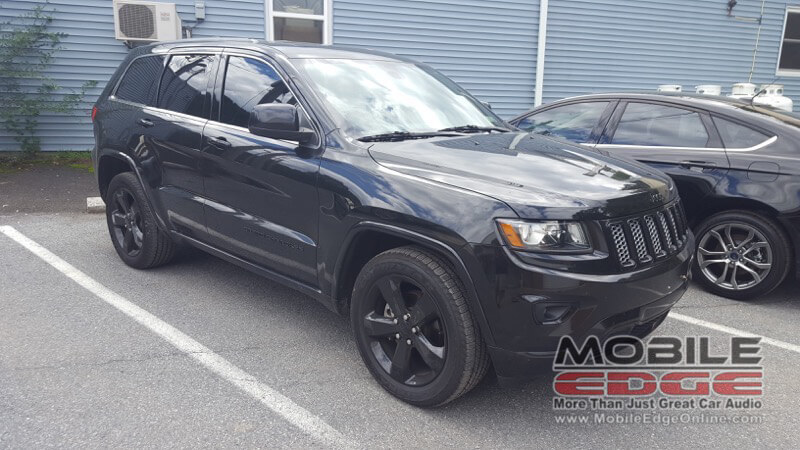 A client from Andreas recently dropped into Mobile Edge to ask some questions about her 2005 Jeep Grand Cherokee audio system. She told us that the dash speakers sounded weird and that even when they worked, the system didn't sound very good. We showed her a few speaker options and let her listen to them using a Pioneer multimedia receiver. The discussion quickly turned to driving safety features when we demonstrated Apple CarPlay and the backup camera option on the Pioneer. With an upgrade plan in place, we scheduled an appointment to do the installation.
Jeep Grand Cherokee Audio Speaker Upgrade
The client liked the sound of the Memphis Power Reference PRX275 2.75-inch coaxial speakers we suggested for the dash and the PRX693 three-way 6×9-inch speakers for the doors. The 6×9's would fit the factory mounting location in the doors with no modifications. Our fabrication team made a set of Type 1 PVC plastic adapters for the 2.75-inch speakers to fit into the 3-inch factory locations in the dash. The factory grille fits nicely over the upgraded speaker.
Pioneer Source Unit with Apple CarPlay
We removed the factory radio and prepped a wire harness adapter for a Pioneer AVH-4201NEX receiver. At the same time, another technician mounted the Pioneer ND-BC8 backup camera that comes with the radio on the rear of the truck and ran the wiring through the interior to the radio.
We used a Metra 95-6533BB conversion kit to mount the radio in the dash and provide a clean and tidy look on the front panel. The factory radio face is a little smaller than the Pioneer's, requiring that we trim the radio panel. The Metra kit covers the cut edge and looks great!
With the camera wired up and an antenna adapter in place, it was time to make sure the radio worked perfectly and that we had every speaker wired correctly. We also tested the automatic display dimming feature that reduces the intensity of the display when the headlights are turned on. We also perform our testing before we mount the radio in the dash and put the trim panels back in place.
Apple CarPlay Adds Safety
With the installation complete, the client returned to Mobile Edge to pick up her SUV. We let her listen to the Jeep Grand Cherokee audio system, demonstrated how the backup camera works and showed her how to use Apple Carplay. The client loved the way the new Memphis speakers sound and was excited to use the CarPlay features. If your sound system doesn't sound the way it should, drop by our store and let us know. You can reach us by e-mail using the button below for more information about any of our products or services.