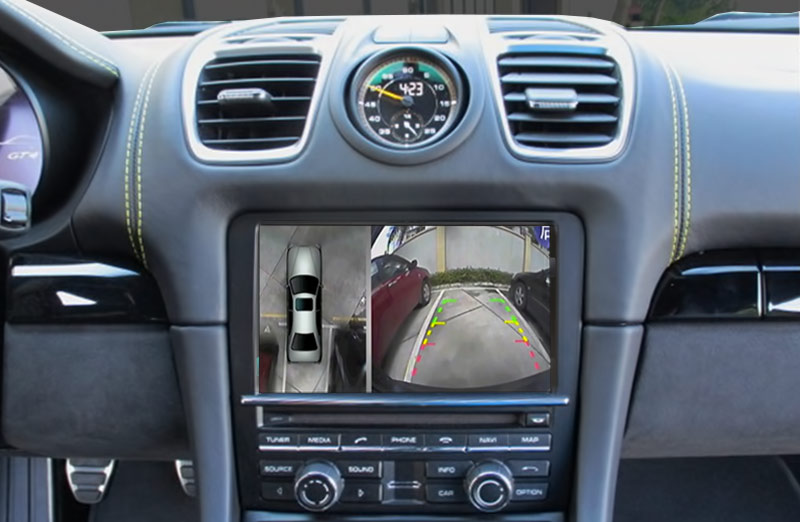 Once you've chosen a backup camera style, the team at Mobile Edge in Lehighton can provide you with a variety of display options to make seeing the output of the camera easy and convenient. While performance is crucial, we'll make sure your camera system looks as though it's an integrated part of your vehicle. We have options to connect the camera with the factory-installed display, add a new multimedia receiver or upgrade the rearview mirror to help you park and maneuver your vehicle safely and efficiently.
OEM Infotainment System Camera Integration
Most new vehicles include a color display in the center of the dash. Depending on the specific year, make, model and trim level of your vehicle, we can typically source an interface that will allow us to display the backup camera image on this factory-installed screen. These interfaces work with the data communication network in your vehicle to bring up the camera image automatically as soon as you put the transmission in reverse. In several cases, these interfaces include multiple camera inputs so we can add a forward-facing camera, a cargo camera or even blind-spot monitoring cameras.
Many of our solutions can read steering wheel angle information from the vehicle's data network to overlay dynamic parking lines that indicate the path of the vehicle. This makes centering your vehicle on a parking spot or backing up to a loading dock much easier.
Aftermarket Source Unit Solutions
If you have an older vehicle, upgrading it with a new multimedia receiver not only allows us to add a backup camera, it opens up a new world of entertainment options including SiriusXM satellite radio, Bluetooth streaming and online streaming services like Pandora and iHeartRadio. Radios are available with 6.2-, 6.95- and even 8.95-inch displays, and all of them integrate with your vehicle to display the camera image automatically when backing up.
Rearview Mirrors with Integrated Displays
If you can't change the radio in the dash of your car or truck but still want a backup camera, we carry a variety of rearview mirror options that include built-in displays. When the camera is not in use, these solutions work just like the mirror that came with your vehicle. As soon as you put the transmission in reverse, an LCD screen shines through the silver mirror layer to show you everything happening behind your vehicle.
Stand-Alone Rearview Camera Display Monitors
For heavy-duty applications, we offer stand-alone monitors that can be mounted to the rearview mirror bracket in a truck, the dash or the center console. These displays typically include several camera inputs, and some premium solutions will display multiple images simultaneously. We will help you choose a size that works with your vehicle and ensure that the display is mounted in a location that is easy to see.
Lehighton's Vehicle Safety System Experts
If you are in the market for a backup camera solution, drop by Mobile Edge in Lehighton and speak with a member of our team. We'll help you choose the perfect solution for your application, and our team of expert automotive technicians will ensure that the system is reliably integrated into your vehicle. For more information, feel free to call our store, or click on the red button below to send us an e-mail using our contact form.