Backup cameras from Mobile Edge in Lehighton are great accessories for Pennsylvania landscaping contractors getting ready to install their snowplows for the upcoming winter. With the forecast calling for heavy snowfall this season, late nights and early mornings mean challenging conditions for plow operators. A camera system can let you see what's in front of the blower or behind the salt spreader, making operating your truck safer and more efficient.
Backup Cameras and Applications for Plow Operators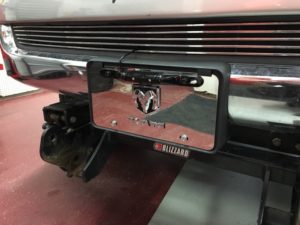 Imagine that you could see over the edge of the plow. Knowing where curbs are helps to ensure that you can clear driveways and parking lots efficiently and safely. Working around parked cars and being able to see snowplow markers can prevent damage and improve accuracy.
Another option is to repurpose our blind spot cameras to let you look forward from your sideview mirrors. You would be able to see the edge of the plow blade, ensuring you clear every inch of snow while avoiding solid, and often expensive, objects.
On the back of your truck, we can mount a backup camera in a conventional location near the license plate or provide a custom tailgate handle or emblem with an integrated camera for a wider field of vision. Avoiding objects and people is easy when you can see right behind the vehicle. If you have a salt or sand spreader in the bed, we can mount a camera to the hopper, chute cover or engine cover. Our team will work with you to choose the solution that provides the information you need.
We have heavy-duty cameras that include IR transmitters, so they work in complete darkness. We have cameras with built-in microphones, so you can hear what's happening in front of or behind the truck. We also offer a multi-channel digital video recorder that can capture video from up to four cameras simultaneously, truck motion from the onboard 3-axis G-Sensor, and GPS-based vehicle position and speed.
Camera Equipment Installation
Our cameras are available in true and mirror image configurations to suit front or rear installations. All of our cameras are completely weather-resistant and operate reliably, even when the mercury drops below freezing. Our team of technicians will route all the wiring so it won't be damaged. Even on the stormiest of days and after adjusting the plow thousands of times, the system will work as well as the day it left our shop.
We would be happy to work with you to choose a viewing system that fits your application. Our Momento R1 rearview mirror monitor and C1, C2 or C3 backup cameras are great for daily maneuvering. In many trucks, we can feed a camera image to the factory infotainment system display. You can even choose which camera you want to see if we have installed more than one on your truck. We also offer console-mountable 7- and 9-inch monitors that can show multiple camera images simultaneously.
Improve Accuracy and Increase Safety at Mobile Edge
If you operate a snowplow, take a drive over to Mobile Edge and talk to our team about adding backup cameras to your truck. Once we understand your goal for the system, we'll design a custom solution to provide you with the information you need. For more information, hit the red contact button below to send us an e-mail.