Mobile Edge in Lehighton offers blind spot monitoring and 360-degree camera systems to help make driving safer. We can integrate these safety systems into most SUVs and trucks to serve as a second set of eyes to help you watch the people and vehicles around you. Let's look at how these technologies work.
What Is a Blind Spot?
The blind spot is the area on either side of your vehicle that isn't visible in your peripheral vision or your mirrors. While the solution to preventing near-misses and accidents is for drivers to perform a "shoulder check" before changing lanes or turning, not everyone remembers to do this.
Our blind spot camera systems use a pair of cameras that integrate with the color display in your dash or a rearview mirror with an integrated color screen to show what's on either side of your vehicle. These cameras can be mounted on the underside of a vehicle's side-view mirrors. In some cases, replacement mirror covers or housings are available with the camera mounts built in.
How Do Blind Spot Camera Systems Work?
Once we have the camera system integrated into your vehicle, the entire system works automatically and intuitively. When you activate the turn signal, the image from the corresponding camera will display on the screen solution we have agreed on. You can see if someone is lurking beside you and adjust your driving intentions to suit.
What is a 360-Degree Camera System?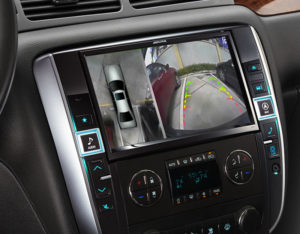 Sometimes called 360-degree around-view or surround-view camera systems, these safety technologies use a combination of four (or more) wide-angle cameras and a powerful image processing unit to provide the vehicle operator with a bird's-eye view of the vehicle and the objects around it.
The images from the cameras on the front, back and sides of the car, truck or SUV are combined to show parking lines, vehicles, curbs, bollards and bikes, toys or people around your vehicle. You can use the system to ensure that you've parked perfectly between the lines or tight against a curb. The system is also great when backing up to a loading dock.
We can integrate the camera system into many factory-installed infotainment system displays in the dash of a vehicle or add a new multimedia receiver with a large screen to show what's around the vehicle.
Expert Installation and Integration
While the quality of the components we use is crucial to delivering clear and detailed images, so too is the way those components are mounted and integrated into the vehicle. Our team of full-time, on-site technicians has the tools, training and attention-to-detail awareness that ensure every project is executed using only the best practices available. Once we're finished, we'll happily take the time to make sure you understand the work we've done, and we'll train you on all the details of how to get the most out of your safety system investment.
For more information about our blind spot and 360-degree safety camera solutions, we invite you to visit Mobile Edge in Lehighton. Ideally, bring the vehicle you'll be upgrading so that we can inspect it and research options for camera mounting locations and display options. For more information or to schedule a consultation, give us a call or click the red button below to send our team an e-mail.