A lot of clients here at Mobile Edge in Lehighton ask if there are aftermarket blind spot detection systems available. Thankfully, we carry several options that can add this accident-preventing technology to your car, truck or SUV. Let's take a look at some of the options we have available and how they can help prevent accidents while you're traveling the busy roads of Pennsylvania.
Radar- and Microwave-Based Blind Spot Detection Systems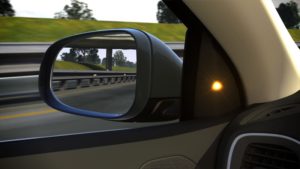 If you own a new car or SUV with a premium accessory package, chances are that the vehicle includes a radar- or microwave-based blind spot detection system. These systems use a pair of transceivers mounted in the rear corners of the vehicle to monitor the adjacent lanes for the presence of objects entering or exiting that space.
We offer several aftermarket solutions that work the same way. If a car approaches yours in an adjacent lane, the system will illuminate a small indicator inside the vehicle to let you know that someone is driving in your blind spot. If you activate your turn signal while someone is in that space, the system will flash the indicator and warn you with a buzzer to alert you to the danger of changing lanes.
Many of these systems can also switch into a Cross Traffic Alert mode when you are backing up. In this mode, the system extends its monitoring range to watch for cars, cyclists or pedestrians approaching from the sides as your vehicle moves backward. When the system detects an object, it flashes the indicator and produces an audible warning.
Camera-Based Blind Spot Safety Systems
A popular option for trucks and SUVs is a camera-based safety system. These systems include a compact camera on either side of the vehicle that is activated when you flip on your turn signal. The camera image appears on a screen in your vehicle. We can often integrate these systems into a factory infotainment system with a color display, an aftermarket source unit or a stand-alone screen built into a rear-view mirror.
Many of these systems work with factory-installed backup cameras or provide the option to add a camera to make parking and maneuvering easier. Forward-facing cameras are another option to help drivers of large trucks see what's in front of the vehicle.
Upgrade Your Vehicle Safety System at Mobile Edge
If you are interested in upgrading your car or truck with a blind spot monitoring system, we invite you to drop into Mobile Edge in Lehighton and speak with one of our product specialists. They can assist you in choosing the perfect solution for your application and arrange for one of our expert technicians to integrate the system into your vehicle seamlessly. For more information, click the red button below.