Mobile Edge in Lehighton offers an extensive selection of commercial vehicle safety upgrades. Everything from parking sensors, backup cameras, Bluetooth and smartphone integration make it easier and safer for you and your staff to operate your vehicles. From a single van or truck to an entire fleet, let Mobile Edge know what you need, and we will find a solution.
Parking and Reverse Safety Solutions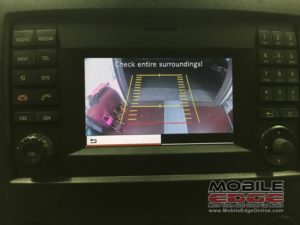 Backing up in a van, truck or SUV is dangerous because it is hard or outright impossible to know what is behind the vehicle. Mobile Edge offers backup camera solutions that will display a clear image of everything behind your vehicle as soon as you put the transmission in reverse. We can integrate these cameras with factory multimedia displays, replacement rear view mirrors, aftermarket source units or dedicated monitors. We can enhance our camera solutions with front cameras or a full 360° system for the ultimate protection.
Parking sensor systems are some of our most popular commercial vehicle safety upgrades. These simple systems will alert drivers to the presence of objects behind the vehicle, giving them time to stop.
A dash camera like the Momento M5 is an excellent way to keep tabs on the people around your vehicles. It records high-resolution video as soon as the engine is started and includes dedicated front and rear cameras, a GPS receiver and an onboard gyro to capture motion. Studies have proven that employees are more efficient and have improved driving habits when they know their actions are being recorded. A dash camera system can pay for itself in lost-time savings quickly.
Security and Convenience Systems
Mobile Edge is a leader in the sales and installation of remote start and security systems. Our security options include shock, motion and tilt sensors. They can monitor all the entry points to your vehicle and ensure your property is safe. We can provide two-way remote control solutions that will page you if your alarm has been triggered. Our DroneMobile smartphone telematics solutions allow owners to remote-start and operate their security systems from anywhere they have access to the Internet. DroneMobile also offers GPS locating, letting owners know exactly where their vehicles are at a moment's notice.
Protect with Window Tinting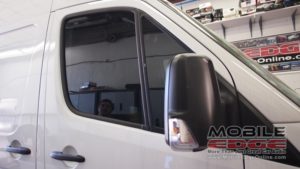 Another great option for protecting your vehicle and your staff is window tinting. Tinted windows make it harder for thieves to see what's inside, reducing the chance of theft. If someone does try to break a window, the high-strength adhesive on our films holds the glass pieces together, making it difficult to get through.
Smartphone Integration makes Communication Safer
Smartphone integrations solutions like Android Auto and Apple CarPlay allow drivers to communicate with coworkers by phone or text message without taking their hands off the wheel, or their eyes off the road. They only need to speak to the radio to converse.
Contact Mobile Edge for Commercial Vehicle Safety Upgrades
The staff at Mobile Edge in Lehighton stay up to date with the latest products and technologies to keep you, your employees and your equipment safe during the work day. For more information about our fleet and commercial vehicle safety and convenience products, call Mobile Edge at 610-377-2730 or contact us using the button below.