The voting is in and Mobile Edge has been named one of the Top 12 Mobile Electronics Retailers in the entire United States!  This marks the 5th time in a row that we have been so honored.  We are truly humbled and want to thank all the industry folks, our customers and our Facebook following that took  the time to vote for us.  It means a lot to us!
So this would normally be where I would tell you a lot about our history and what we do.  If you want to find that stuff, I've dedicated this entire site to that. What I'm going to do instead is to tell you about a few of the shops that are nominated with us.  Many of these guys are my friends and I have to tell you, these shops are the best of the best!  It's a tremendous honor to be among this group.
Cartronix Mobile Electronics – Valparaiso, IN
I've only gotten to know Eric Carter, the owner of Cartronix in the past year or so.  This guy gets the industry and understands how to make customers happy.  They have just opened up a new state of the art facility.  In addition to a hugely successful Audio shop, he also owns a chain of mobile phone stores that service a good chunk of Indiana!  Check them out on Facebook.
Handcrafted Car Audio – Mesa, AZ
I got to know Jon Kowanetz shortly after the 2010 Industry Awards.  That year, Mobile Edge won the Retailer of the Year Award and Jon won the Installer of the Year.  I didn't get to meet him until the 2011 awards because he was at home taking care of his newborn daughter, Charlotte.  I think that one of us called to congratulate the other and a great friendship developed.  Jon is one of the best installers I have ever met and has a mind like a bear trap.  When I called Jon to ask for advice on our demo system in a 2009 Lexus IS250, Jon knew EXACTLY where every wire was… Off the cuff!  Jon runs a boutique shop in Mesa, Arizona and specializes in custom installation of sound quality systems.   Take a look at his website and his facebook page.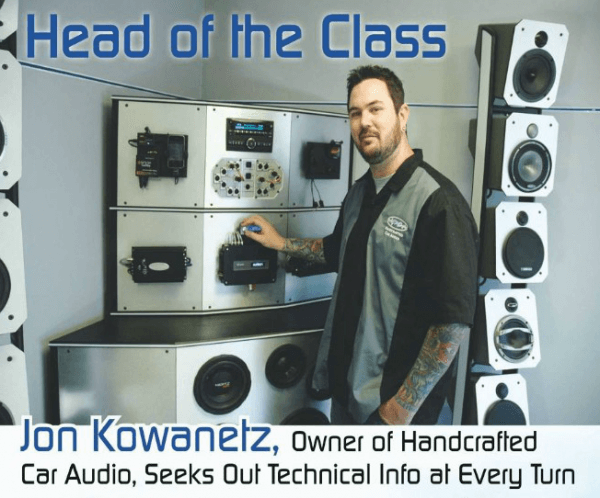 Ocala Car Audio – Ocala, FL
I've known Parish Tanner for many years because of an industry forum that we belong to.  He brings a lot to the table because of his many years experience in this industry.  A few years ago, Parish took the plunge and opened a shop along with a business partner.  After just 1 year in business, his store was named to the Top 50 list.  This year he and his team made the top 12 (To put that into perspective, it took Mobile Edge 13 years to make it to the top 12).  Parish is always looking for ways to expand and market his business and to support the mobile electronics industry.    In a short time, OCA has managed to develop such a strong following that several of his clients have had the store's logo tattooed on their bodies! You can learn more about Ocala Car Audio online and on Facebook.
Security and Sound Systems – Honolulu, HI
Kent Izuka and his shop, Security and Sound Systems of Honolulu, HI won the Retailer of the Year Award for 2007-2008.  Kent runs a great business and has been very active within our industry.  A while back, Hawaii wanted to enact a ridiculously restrictive noise law that would have essentially shut down shops like ours.  Kent went in front of the state legislature and spoke on behalf of the industry and was successful in shooting down the law.  I believe that, had this succeeded law in Hawaii, it would have trickled into many other states.  You can thank Kent for helping to allow you to continue to have a choice in how you listen to your music in your car.  Check out Security and Sound Systems online and on Facebook.
Sonus Car Audio – Clarksville, TN
I first heard of Sonus a few years ago from a rep.  He told me about this shop in Tennessee that did awesome work and have really funny T-shirts!  Over the past year, the owner of Sonus, Micah Williams and I have communicated through and industry forum that we belong to.  These guys have it going on!  They do a LOT of crazy custom work.  I think Micah thrives on doing more and more outlandish installs!  Their install bay is possible the most state of the art in our industry! This is one shop that you need to check out online and Like on Facebook!
WSS Westminster Speed & Sound – Westminster, MD
Mark Miller is definitely the veteran of this group.  Mark has been around this industry forever!  My first encounter with Mark was at a dinner in Las Vegas in 1997.  A rep took out a group of retailers and, even 15 years ago, I could tell that this guy knew how to run a successful business.  Through the years, Mark has expanded into everything from car audio to performance to rims and tires, and he has dominated his market every time.  Mark and his crew are very well-rounded retailers and installers and WSS is certainly one of the industries elite shops.  Check out their website and their Facebook page!
In Great Company
So as you can see, Mobile Edge is in some great company.  To have just made it to this point and be among this elite crew means the world to myself and my crew.  Thanks again to everyone that has supported us throughout the last 18 years!