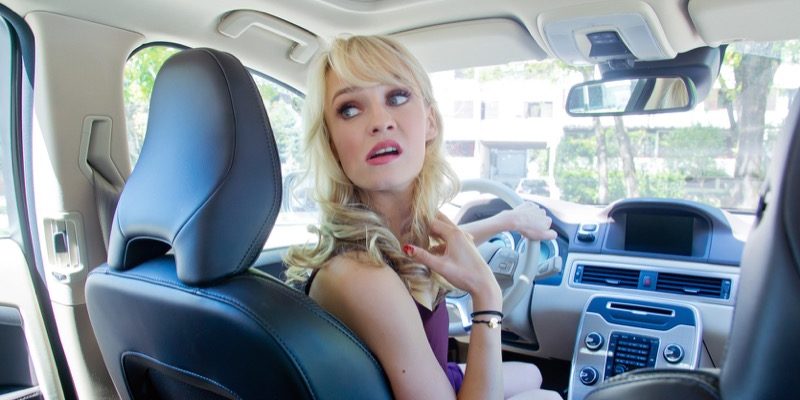 Nowadays, it seems as if more and more things distract us. Nowhere is that more evident than driving a vehicle. Did you know thousands of people get injured every year and millions of dollars in property damage occur from unsafe backing up of vehicles by distracted drivers? Even worse is the fact that many small children are killed every year because drivers simply didn't backup safely.
The good news is that Mobile Edge can help. We have backup camera systems and parking sensor systems that will give you visual and/or audible alerts of people and/or objects in your blind spot. While these technologies are getting more and more common on new vehicles, we have been installing them since the early 2000s, way before they were commonplace. I guess you could say we are experts in our field when it comes to backing up safely.
Backup Cameras
Backup cameras are among the most popular products we sell. Sometimes we wonder if it has to do with the fact that they involve installing a video screen and camera, and people love watching video. Ideally, it is because they want to protect themselves and others from damage or injury.
It all starts by us installing a camera in a strategic location at the rear of your vehicle. That location may be at the top of your license plate, on the lip right above the rear tag or flushed into the tailgate of your vehicle. Inside the vehicle, that camera image is displayed whenever you put the vehicle in reverse.
Camera Viewing Options
There are four popular options when it comes to displaying the image.
Factory Display Integration
If you already have a color screen in your dash, chances are good that Mobile Edge can use that screen, along with an integration module, to display the backup camera image for you.
LCD Rearview Mirrors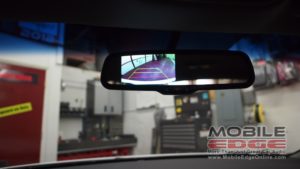 Rearview mirrors are popular for displaying the image from your backup camera. They come with embedded LCD monitors that you don't see under normal circumstances – until you put the vehicle into reverse. Then the monitor lights up, giving you a clear view of what's behind you.
Standalone Monitors
Standalone monitors are popular for when you need a larger screen size or the other options aren't available. We have multiple screen sizes and styles, so we are sure to have a fitment for you.
Replacement In-Dash LCD Monitor
A replacement in-dash stereo system with integrated LCD monitors is a great option, especially if your older vehicle is in need of some other technology upgrades such as Bluetooth, satellite radio, navigation or USB ports.
Trailer And Towing Safety
Do you pull a trailer? Our backup cameras make easy work of backing up to your trailer. We can also install a camera that aims at your fifth wheel hitch if that is your preferred method of towing. For even greater safety, we can add a camera to the back of your RV or trailer so you can see behind it when backing up. The first time you use a camera like that, you will wonder how you ever did it without one.
Front-Mount Cameras
Did you know you can also add a front-mounted camera to your vehicle? They work great when you're pulling into parking spots, especially in tight spaces.
Parking Sensors
Parking sensors are also great technology to help you back up safely. They use small sensors that get flushed into your rear bumper and alert you with a beeping sound when you are getting close to a person or object. As you get closer to the object, the beeping goes from slow to fast and finally to a constant beep. Weather and lighting have no effect on their performance, and many people like them for this reason alone. For the ultimate in safety, we suggest doing a camera and sensors because then you get the best of both worlds. The sensors definitely help with depth perception when using a camera.
Want To Be Able To Backup Safely? Contact Us Today
When you are ready to add backup safety technology to your vehicle, we invite you to stop by Mobile Edge in Lehighton. One of our team members will look over your vehicle with you, get to know you and your needs, and then design a solution specifically catering to those needs. Let us show you why we are Pennsylvania's most-awarded mobile electronics retailer.
You can also contact us HERE for more information about any of our products and services.