As driver safety products get more and more popular, Mobile Edge in Lehighton has stayed on the cutting edge of these exciting technologies. It seems as if every day we see another ad from a manufacturer touting safety products on new vehicles. Did you know we have been offering many of these products before they ever hit the mainstream? Yep, we sure have. Here are some of the most popular products we offer in the category.
Backup cameras are one of the most popular products at Mobile Edge. Being able to have a visual of the blind spot behind you is very appealing to many clients. We install a camera in a central spot on the rear of your vehicle. It then displays on a monitor in an easy viewing location for the driver.
Speaking of monitors, these come in four different styles.
Integrated Iinto Your Factory Screen
If your vehicle came factory-equipped with a color screen in the dash, the chances are good that we can integrate the backup camera to display for you right there. When finished, it looks and operates just like a factory-installed solution.
Replacement Rearview Mirror
Another popular option is replacing your existing rearview mirror with one that comes equipped with an LCD monitor. Under normal circumstances, the mirror looks original. When you put the vehicle in reverse, the backup camera image is instantly displayed in the mirror in a convenient spot.
A New In-dash Stereo System
If your vehicle is in need of a technology upgrade, a replacement in-dash touchscreen system may be the perfect solution for you. Popular options include Bluetooth for hands-free calling and music streaming, USB ports to control your external media, smartphone integration, and turn-by-turn navigation. You can even add SiriusXM. Once you have a color screen in your dash, we can integrate the backup camera to display on it, giving you a great solution for greater safety.
Standalone Monitors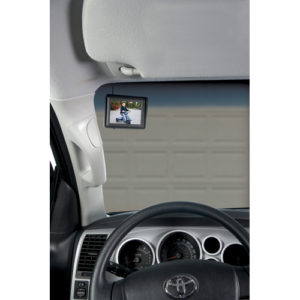 In some vehicles, especially commercial ones, a standalone monitor is the best choice to display your backup camera image. We have units in several sizes and can work with you to find the best mounting location for your needs.
While you are at it, if you would like a front camera to aid with face-in parking, we can add one of them at the same time as the backup camera.
Parking Sensors Add Great Depth Perception
When you are backing up, wouldn't it be great to know how close you are to an object? Parking sensors will do that for you. Mobile Edge flushes small sensors about the size of a quarter into your rear bumper that detect people and objects behind your vehicle. Even in bad weather or darkness, they work great. As you get closer to an object, an audible beeper goes from a slow beep to a constant beep and finally a constant tone, alerting you of the increasingly closer distance from the object.
These sensors will definitely make you a safer driver. We can also install them in the front of your vehicle to help with face-in parking when you are pulling into a spot.
360-Degree Camera Systems Protect You on all Sides
For the ultimate in visibility, choose one of our 360-degree camera systems. Our team installs a camera on each side of your vehicle and uses sophisticated technology to integrate the four images into one view. You can now get an overhead view of everything around your vehicle, giving you the ultimate in driver safety while parking. To make it even better, the rear camera activates when backing up, giving you a rearward view. When you are driving up the road and activate your blinkers, you get a left side or right side view, helping to eliminate your blind spots.
Blind Spot Cameras Are Great in Traffic
Imagine being able to drive up the road, turn on your blinker and instantly see what is in your blind spot. That is exactly what blind spot cameras do for you. Our team strategically mounts a camera underneath your sideview mirrors that can display anything in your blind spot.
Blind Spot Systems Use Radar Technology
Blind spot systems are designed to protect you from moving into a lane where another vehicle is in your blind spot, but it uses different technology to protect you. We mount hidden radar sensors in the rear of your vehicle and place visual indicators on each side of it. When someone moves into your blind spot, the indicator illuminates. If you activate your blinkers and someone is in your blind spot, you hear an audible alert as well.
Forward Collision Warning Systems
Among the most advanced and useful driver safety products are forward collision warning systems. They use a forward-facing camera and high-tech wizardry to "read" the road in front of you, looking for danger. If you start to drift out of your lane, you get an alert. If you follow too closely behind another vehicle, , an alert goes off. In the event you aren't slowing down quickly enough to avoid an accident, you get an alert. This product can help you avoid a serious, even deadly accident.
Come See Us for More Information on Driver Safety Products
We invite you to stop by Mobile Edge in Lehighton with your vehicle and get to know us better. One of our expertly trained staff will look over your vehicle and take all the time needed to understand your needs. At that point, we will offer you solutions designed to work best in your unique situation.
You can also contact us for more information by clicking here.