Each and every one of us has been affected by first responders and our military. For some of us, these people may have even saved a life of someone you know. We are able to live in freedom because of what these men and women did in the past, and today they continue to serve our country and community. With September being First Responder and Military Appreciation Month, Mobile Edge has decided to show our thankfulness in our own way. We truly care about our country and our community, and are grateful to be able to give back to those who protect them.
'Thank You' Goes a Long Way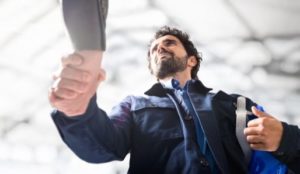 With the ever-increasing pressures in their work, first responders and military personnel deserve more appreciation today than ever before. Their work can be a thankless job, and that's not the way we at Mobile Edge want it to be. These men and women have some of the most important jobs in the world. Our towns and cities would not be the same without them. Some days, a simple "thank you" from a stranger is what keeps these heroes moving forward.
Pay it Forward
Mobile Edge wants to encourage everyone to thank first responders and military personnel when you see them on the street. Would you consider paying for this person's tab when you notice them dining at a local restaurant? Or giving up your seat as a gesture of respect? There are so many ways we can easily show our appreciation to those who deserve it the most.
Our Way of Giving Back
Mobile Edge has decided to offer 20% off on purchases during the month of September to all verified first responder and military personnel. This is our way of saying "Thank you" to all of the men and women who serve our community and put their own lives at risk for our safety. *See store for details.