It is becoming one of the more popular questions from our customers:  What is HD Radio?  I figured that it would make sense to answer that question on the site and dispel some of the myths.
How HD Radio Works (my version)
First of all, HD Radio does not require a subscription. Unlike Satellite Radio, It is free once you have the correct equipment (more on that later).
HD Radio is broadcast as a digital "overlay" on a standard AM or FM signal.  It is a bunch of ones and zeros that travel along with many of your favorite stations.  An HD Tuner in your home or car decodes this into high quality music.  Many "overlays" can travel along a single FM or AM frequency (station)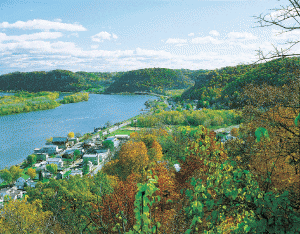 Follow along with my very lame analogy.  Suppose you have a very winding and fast flowing river.  That river is your FM signal.  The "waves" that travel along it are your traditional FM or AM analog transmission.  The whole width of the river is necessary to create sound at the other end.  Sometimes that sound is a little distorted because of "rapids" and bends that confuse or block some of the waves.  The analog tuner at the other end turns it into sound along with the distortions or missing music.
Now imagine that there are millions of ones and zeros floating in a very orderly "stream" down one side of the river.  They stay in order and arrive at the "receiver" in the same condition that they were sent (I know.. they would get all mixed up in a real river but just play along!).  The end result is crystal clear sound with very minimal distortion or interference.
Take that analogy a step further.  The ones and zeros are relatively small in comparison to the river.  You could actually float many "streams" of ones and zeros next to one another and have totally different information on each one.  Still the same river (frequency) but multiple streams of information. You end up with several different audio streams riding along on the same frequency.  Your HD tuner can decipher these streams and let you listen to different versions of the same station.
What does all that mean to me?
Taken right from the HD Radio website, HD Radio gives you:
FM stations now with CD-quality sound
AM stations now with FM-quality sound
Crystal-clear reception with no audio distortion
And most of our local stations here in PA are on board with this… CAT Country, WZZO and WAEB all broadcast in HD.  As I write this, WZZO and WAEB actually have version 1 and version 2 of their stations.  When stations broadcast a second version, it is sometimes the same format and in some cases it is entirely different.  What you get is better quality and more variety.
In addition, because it is digital, you can receive a lot of text based information right on your radio's display.  Weather, traffic, song information, and basically anything the broadcaster wishes can be displayed on the receiver's screen.
I like it!  How do I get it?
For the purposes of this post, I will go over how you can get HD Radio in your vehicle.  Essentially, there are 4 different ways:
Many new car radios have an HD Tuner built in.  You are able to pick up HD Radio the moment you drive off the new car dealer's lot.  And if you want to take full advantage of the digital quality sound, I would recommend stopping by your local independently owned mobile electronics store (Mobile Edge, of course, if you happen to be in eastern PA!).  They can show you affordable upgrades to your factory system that will bring out the best in HD Radio.
You will not need to replace your factory radio, but you will need an HD tuner hidden out of sight by a professional.  In some cases, this adapter can also accept the direct input of an Apple iPod. Once again, I recommend an independent specialist in your area.
Replace your existing in dash radio with one that has HD Radio built in.  There are a variety of solutions on the market today.  Mobile Edge offers excellent quality radios from Eclipse, JVC and JVC Arsenal that can have you rolling with HD in no time.
If you don't want to replace your radio and the one you have cannot accept an aftermarket adapter, you can still enjoy HD Radio.  A plug and play outboard receiver with a display can be mounted on your dash and works through your existing radio (same concept as Delphi SkiFi and Sirius Sportster).  I recommend these only when other options are not possible.  While they sound very good, they do not have the exceptional sound quality of the options above.
How do Satellite Radio and HD Radio Compare?
There are many differences:
HD Radio is free and Satellite requires a monthly fee.
HD Radio is censored and Satellite radio is uncensored.
Satellite Radio gives your more on demand options while HD Radio gives you what is available in the immediate market.
Satellite radio is nationwide and HD Radio can be received in an area similar to what you are used to on FM and AM.  In other words, it will cut out after you move far enough away from the land based tower.
HD Radio allows you to listen to your favorite local DJ's and programming while Satellite is a nationwide broadcaster.
Satellite offers more selection of sports and talk radio than is likely available on HD in your market.
In Summary
HD Radio is a tremendous upgrade to any radio.  You will be impressed with the sound quality and all of the other features will be an added bonus.  If you are in the area, please feel free to stop off and allow us to show you how HD radio can improve your in-car experience.