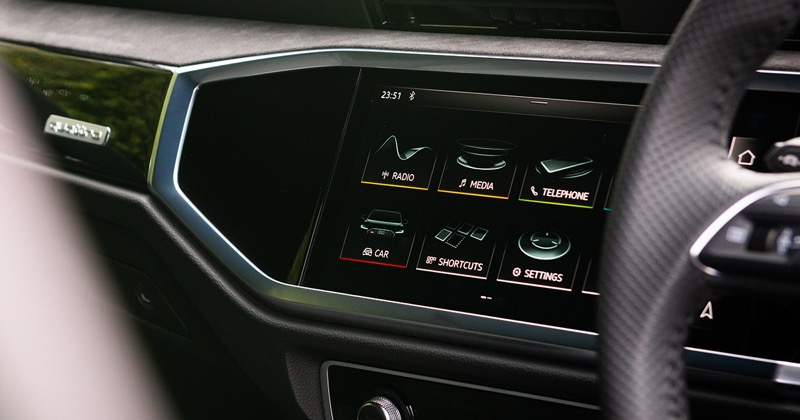 The car stereo upgrade experts at Mobile Edge in Lehighton have the tools and knowledge to upgrade even the most premium factory-installed audio systems for improved clarity and performance. Whether you have a Chevy with a Bose system, a Ford truck with a B&O solution or a Mercedes-Benz with the Burmester option, we can make your music sound better. Unlike automobile manufacturers that build to a price point, we can upgrade your car or truck with amplifiers, speakers and subwoofers designed for studio-quality audio performance.
Three Steps to Better Sound
No matter how premium the stereo is in your vehicle, the chances are good that it can benefit from a high-performance subwoofer. Most premium audio systems have an 8- or 10-inch woofer in a small sealed enclosure. While these are better than nothing, they can't hold a candle to a high-performance subwoofer in a carefully designed vented cabinet. Imagine bass that has great impact and extends into the bottom octave to feel your music.
Don't think for a second that you need to give up all your cargo space to get great bass. Our technicians can deliver a bespoke solution that sounds amazing and lets you carry your tools, luggage or golf clubs.
Upgrade Two – Add an Amplifier
Even if there's an amplifier in your vehicle, upgrading it with something with a built-in digital signal processor and more power can transform the realism and accuracy of your music. We can calibrate the audio system for your listening style and configure it to deliver impressively accurate staging and imaging. When done, it can sound as though you're sitting in the front row at a live concert.
Of course, if you like to listen to your music loudly, you need an amp that can deliver. We have amplifiers that can produce well over 100 watts per channel to ensure that the signal going to your speakers is crystal clear, even with the volume cranked.
Step Three – Upgrade Your Speakers
Once you've got a solid audio system foundation with a high-performance subwoofer and you have an amp to bring your music to life, it's time for new speakers. As the link between your ears and your audio system, speakers are crucial. High-quality ones can handle significantly more power than anything the factory installs. They play louder, sound clearer and bring details to your music for a lifelike experience.
Proper Integration Solutions
Our team has the tools and resources to connect a new amplifier, subwoofer or a new source unit into your vehicle so that the audio system functions as if it all rolled off the showroom floor. Whether we need a computer or interface to talk to the radio and steering wheel controls or need to extract a digital signal to feed a new processor – we have you covered. These solutions, combined with our system design and integration experience, are what ensure that your audio system is noise-free, detailed and accurate — whether it's on your daily commute or when you're on the road with your favorite music turned up to 11.
Upgrade Your Premium Audio System at Mobile Edge
If your premium car stereo system doesn't give you goosebumps when you cue up your favorite song, drop by Mobile Edge in Lehighton and talk to one of our experts. You can reach us by e-mail using the red button below to schedule a consultation.