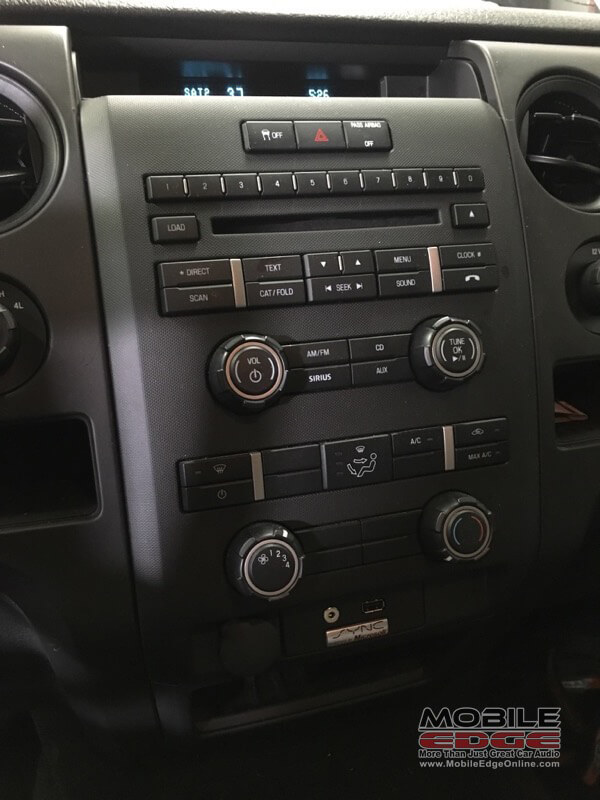 Upgrading your car audio system used to mean sacrificing valuable storage space for subwoofer enclosures and system amplifiers. Clients who come to Mobile Edge in Lehighton, Pennsylvania, are treated to a very different experience. We can install a dramatically improved audio system that is barely visible at all. Read on to learn how we accomplish these amazing feats of installation integration.
Subwoofer Solutions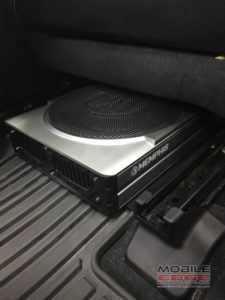 Almost every factory audio system is seriously lacking in the bass department. Even cars with factory subwoofers and expensive branded systems can use some help in coming to life. Mobile Edge offers many different solutions to add bass. Companies like Memphis Car Audio manufacture compact subwoofer systems with integrated amplifiers that will fit neatly under a seat.
If you are looking for something more impressive, then our fabrication team can dream up a custom enclosure that will sound great, get loud and blend in with your vehicle interior. We can mold the enclosure into the corner of the trunk or the space under a seat, or recreate a factory storage console. These larger enclosures allow us to use larger subwoofers that will play louder, offer more low-frequency output and sound better.
Amplifier Integration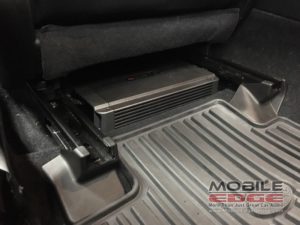 If you are adding a custom subwoofer enclosure, then you need an amplifier. If you want to make the factory speakers in your vehicle sound better, then you need an amplifier. In the glory days of car audio, amplifiers were the size of a skateboard. Now, with high-efficiency components, amplifiers are the size of a hard-cover book. Mobile Edge specializes in creating stealth amp racks from steel brackets to mount your amplifier under your seat. The amps work great in this location. There is lots of cooling to keep them playing, and running wires is easy.
Speaker Upgrades
Once you add bass and increase the available power to your speakers, the next-most-common upgrade is to replace your speakers. New speakers will offer much clearer sound and will play louder. Finally, new speakers offer smooth and extended frequency response. We can often replace your factory speaker with a premium speaker solution that will almost bolt right into place. If you want to improve the front speakers, we can integrate a component set with a separate midrange and tweeter into your vehicle.
Invisibly Improved Audio
With your factory source unit still in the dash and a new set of speakers, an amplifier and a subwoofer, your car or truck will sound amazing. We take extra time to ensure every wire is concealed from view. We route wires and cables away from potentially damaging components like the steering column, pedals, seat mechanisms and door hinges. Your new sound system will be invisible, but will sound great!
Mobile Edge – the Stealth Audio Specialists
If you are in the Lehighton, Pennsylvania, area, then drop by Mobile Edge. Our team of expertly trained product specialists and installation technicians will be happy to assist in designing an upgraded audio system for you. We will ensure that it meets your performance goals and your budget without taking over all the free space in your vehicle.
We will need to inspect your vehicle in person to provide you with a detailed quote on any upgrade. Feel free to call the store at 610-377-2730 or contact us by e-mail by clicking HERE for more information or to schedule a system design consultation.