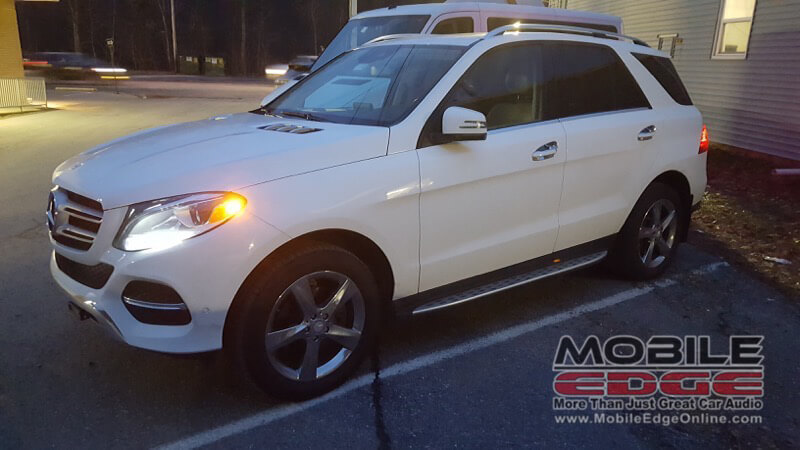 A client from Sandy Hook, Connecticut, was referred to Mobile Edge for assistance in upgrading the lighting on his Mercedes-Benz GLE 350. The client had purchased the vehicle recently and, after driving it at night, was frustrated with the performance of the factory headlights. The client told us he wouldn't have purchased the vehicle had he known how bad the lights where. Since the client lives three hours away, we looked at several photos of the vehicle and proposed adding a set of high-quality LED fog lights to make driving at night safer.
Mercedes-Benz SUV Lighting Upgrade
To keep things legal, we ordered a set of SAE-compliant Rigid Industries 6-inch fog lights for the client's GLE 350. Each of these compact LED lights features six LED elements in a lens system that Rigid calls Clarilux. As you can see from the photos, the light output pattern is very controlled. Even though the lights produce an impressive 2,640 lumens of output, their wide 70-degree beam pattern and sharp upper cutoff ensure oncoming traffic won't be blinded.
Expert Lighting Upgrade Installation
Our installation team mounted the lights on the underside of the front bumper, just in front of the lower grille. Before making any of the installation permanent, we measured the mounting locations to ensure that the lights would be spaced equally from the center of the vehicle. The light kit includes anodized aluminum brackets and stainless-steel mounting hardware so that the system will function reliably for the life of the vehicle.
We ran the wiring from the lights into the engine compartment and secured everything to factory wiring harnesses to keep things neat and tidy. The lighting system control switch is mounted underneath the steering column to make it easy for the client to turn on the lights. This mounting location doesn't detract from the cosmetic appearance of the interior.
With the mounting and wiring complete, our team spent some time adjusting the angle of the lights so the beam pattern would light the road in front of the Mercedes without being so high that the lights would be in the eyes of oncoming drivers. Proper installation and adjustment are crucial to making sure everyone on the road is safe.
Custom Vehicle Lighting Upgrade Experts
It was dusk when we finished the project and our client was eager to see the light pattern. The new Rigid fog lights were the perfect addition to his Mercedes SUV and he was thrilled with the work we performed. If you are looking for a driving or accent light upgrade for your vehicle, drop into Mobile Edge in Lehighton or click the red button below to get in touch with our sales team. We'd be happy to help!