Here at Mobile Edge in Lehighton, Pennsylvania, we have many clients who will travel long distances to have our team work on their vehicles. We take pride in the fact that clients are willing to travel hundreds of miles to do business with us. Most times, when a client schedules an appointment, we have their vehicle for an entire day. This is the perfect time to go out and explore the beautiful and historic areas surrounding our facility. Whether you enjoy hiking, fishing, mountain biking or whitewater rafting, or want to explore old bookstores and antique shops, our area has something to offer.
Just a few miles down the road is the beautiful town of Jim Thorpe with over 35 unique shops and galleries.  Jim Thorpe is regularly recognized on national media "Bests" lists for its food, fun, attractions and rich history.
Many Exciting Destinations Nearby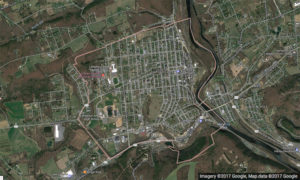 Looking at a map, you might think that Lehighton is just a small town in the middle of nowhere. Nothing could be further from the truth. There are many great places to explore within a short driving distance.
For the past several years, Mobile Edge has been working with Enterprise Rent-A-Car to set our clients up with a great deal. Enterprise will pick you up at our facility and give you a discounted rate and unlimited mileage. This allows our clients to have a vehicle to use to enjoy the surrounding areas. From the gorgeous scenery to the delectable dining options, you may find yourself wanting to return time and time again just to discover more of the area.
Year-round Fun to Be Had Outdoors
No matter the weather or the season, there is always something to do near our store. In the winter months, there are some great spots to go skiing or snowboarding. In fact, there are many different ski resorts within a 45-minute drive from our shop. Imagine skiing down some snow-covered slopes and then sitting down for a nice cup of hot coffee in the lodge while we work on your vehicle at our shop! Check out some of the resorts here:
In the warmer months, there are quite a few outdoor recreation options to enjoy. Bike or hike the Lehigh Gorge State Park or the D&L Rail Trail, either of which offers great scenery and lots of local history. There are great single-track bike trails for more experienced riders.
Paintball, Camping and Whitewater Rafting!
Have you ever tried paintball? Skirmish is a world-class paintball facility where you can enjoy heart-pumping thrills and competition. Mauch Chunk Lake Park provides many spots to camp, swim, fish and hike. If whitewater rafting is your activity of choice, any number of local rafting companies have you covered. While we handle your vehicle, you may just feel like you're on a grand vacation!
Historic Town Just Minutes Away
Just a few miles down the road from Mobile Edge is the beautiful town of Jim Thorpe, named after the Olympic athlete. The historic architecture found here brings travelers from all over the U.S. and maybe even the world. Jim Thorpe is filled with shops, cafes, fine dining, bookstores, antiques shops and wineries (see links below). There is even a vinyl record store and an old-time print shop, complete with several Heidleberg presses.
You'll also find many museums and historic mansions to tour when you visit this one-of-a-kind town. Be sure to take in the Asa Packer Mansion. Asa Packer was a railroad magnate in the 1800s and the founder of Lehigh University who made his home in Jim Thorpe.
If you enjoy live entertainment, we think you'll love a performance at the Mauch Chunk Opera House.
Turn Your Appointment into a Weekend Getaway
Many clients have turned their Mobile Edge appointments into weekend getaways. Many of these clients end up falling in love with the area and return later just to have some more fun. There are several wonderful options available if you wish to stay the night. From great hotels to unique B&Bs  like the Switchback House to murder mystery weekend stays at the Harry Packer Mansion (son of Asa Packer), there's an option for everyone!
Come by Our Store
Why don't you rent a car, work up an appetite by hiking some trails, eat a delicious meal and stay the night at a lovely bed & breakfast while your vehicle gets an upgrade. You just might discover your new favorite town.
Stop by or call Mobile Edge today and talk with one of our team members about the vehicle upgrades you are interested in, or contact us here for more info.
Even if you are not coming to Mobile Edge for an upgrade, we hope that this article acts as a starting point for an awesome getaway.
Dining options in Lehighton
Riverwalk
Normal Square Inn
Dining options in Jim Thorpe
There are many great cafes in Jim Thorpe. If you stumble on one that is not on this list, be sure to let us know and we will add it.
Wineries
Blue Lizard Vineyard and Winery