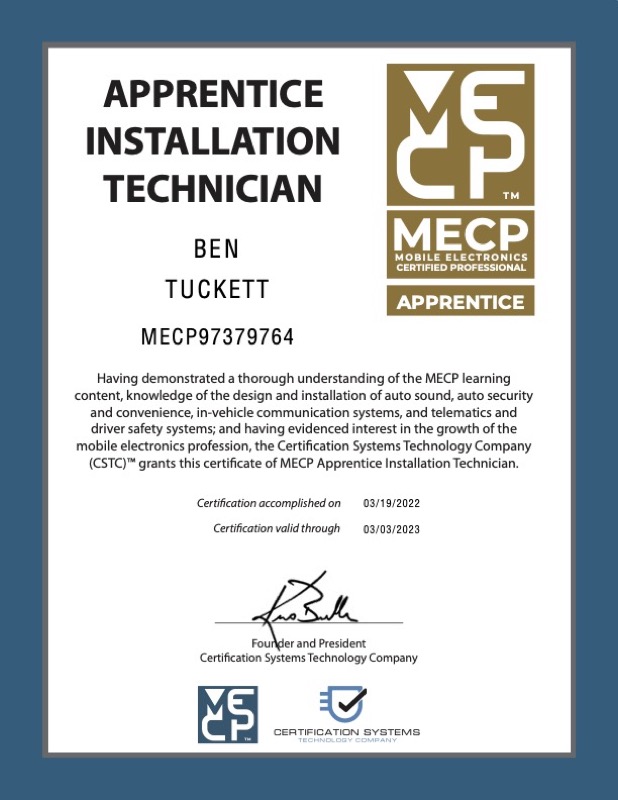 Mike and Ben at Mobile Edge in Lehighton have recently completed Mobile Electronics Certified Professional training courses. MECP is the only internationally recognized credential that certifies mobile installation technicians and salespeople on automotive technology, safety, security and entertainment system design and installation.
Why Our Staff Is MECP-Certified
As the technology in new cars and trucks advances, it's crucial that we continue our commitment to delivering top-quality products and services. Participating in online training – including courses offered by MECP and regional education sessions hosted by the brands we offer – is one of the many ways we stay up to date and continue to advance our skills. In addition, knowing how the complex computer systems in new cars and trucks work makes the audio system and remote car starter solutions we offer more reliable and more efficient.
MECP Product Technology Specialist
As the MECP program has changed its structure, Mike, our store manager, recently completed the Product Technology Specialist Certification course. Mike splits his time between our showroom and working on vehicles, so it made sense for him to focus on enhancing how he interacts with clients to quantify their needs and create solutions. Mike is still very hands-on in terms of working on our clients' vehicles, so he plans on taking the Installation Technician Certification courses in the future.
MECP Installation Technician Certification
Ben spends most of his time working on client vehicles, so it made sense for him to take the Installation Technician Certification course. This course supports our mission to provide technology, safety and convenience upgrades integrated into our clients' vehicles rather than having those elements appear or function as an afterthought. The course also emphasizes best practice procedures for audio system design and calibration. 
Pennsylvania's Car Audio Upgrade Experts
While both Ben and Mike are seasoned professionals, they know that there are always tips and tricks they can learn to improve their efficiency. Likewise, as more and more vehicles use data communication networks like CAN, MOST, A2B and AVB, understanding how to integrate and upgrade those technologies allows us to continue to offer state-of-the-art solutions for our clients.
The information that MECP training adds to our philosophy of using only the best procedures, materials and solutions is what makes Mobile Edge in Lehighton, Pennsylvania, one of the top mobile enhancement retailers in the country. If you're shopping for an audio system upgrade, a remote car starter system or an accident-avoidance solution, we invite you to visit our store. If you can't get here during regular business hours, give us a call or click the red icon below to send our team an email.