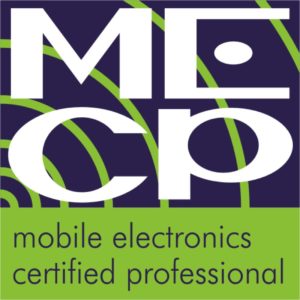 Mobile Edge has been performing some of the area's finest, most reliable installations since 1994, and we are proud of the fact that all our technicians are MECP-certified.
Specialized Certification
What is MECP Certification, and why is it important? This is a great question. MECP stands for Mobile Electronics Certified Professional and is the standard for our industry. In fact, it is the only certification specifically for the car audio and mobile electronics industry. If you want to know if a company takes the caliber of their employees seriously, look for this designation first.
Unfortunate Experiences
Almost everyone has first-hand experience or is friends with someone that had their vehicle worked on by an inexperienced installer. The conversation often goes like this;
I had my brother/friend/buddy/colleague/shop down the street work on my car, and when I got it back, it didn't work properly. To make matters worse, now the instrument cluster in the dash is lit up like a Christmas tree.
Choose Wisely
This could have been avoided if the person had sought out a shop that employs MECP technicians. If you were going to have knee surgery, would you want a board-certified doctor or buddy who lives down the street? It seems like a silly question to ask because, of course, you want someone trained and certified – someone who is serious about taking care of your body.
New Vehicle Challenges
Let's think about your vehicle for a minute. Years ago, vehicles were much simpler to work on. Everything from how they came apart to diagnosing a problem to adding new equipment was much easier. Fast-forward to modern vehicles and the world is completely different. In years past, all of the wiring was known as "homerun wiring," meaning every electrical component in your vehicle had its own dedicated wiring that went from a power source like the fuse box directly to the equipment. Now we have "multiplex wiring," where one wire can perform multiple tasks and all the electronics in the vehicle are connected over a network known as a CAN-BUS. If someone works on your vehicle and doesn't know how to integrate properly with this network, you can have problems that go way beyond your new piece of electronics not working.
All Our Technicians Are Certified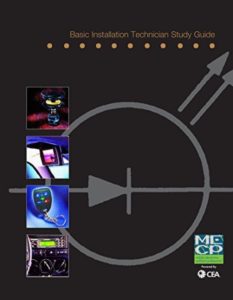 Fortunately, MECP addresses these topics and more in the trainings and certifications it involves. Everyone on the team at Mobile Edge is MECP-certified and we have more than 40 years of experience in working in the mobile electronics field. What that means to you is the comfort of knowing that our technicians are properly qualified – not only to install your new hardware, but also to diagnose any problem.
Stop By Today And Speak With Our MECP Technicians
When you are ready to upgrade the electronics in your vehicle, we invite you to stop by Mobile Edge in Lehighton, PA, and meet our family of MECP technicians. They will work with you to design and build the solution that will work best for your unique needs. You can also contact us by clicking HERE.
Let us show you why we are Pennsylvania's most-awarded mobile electronics shop.