When you drop your vehicle off at Mobile Edge in Lehighton, our vehicle care process and equipment will ensure it is treated like royalty. This article discusses some of the products we use to protect your vehicle and procedures we employ to ensure it leaves in as good as, or better condition than, when you dropped it off.
Inspection and Prevention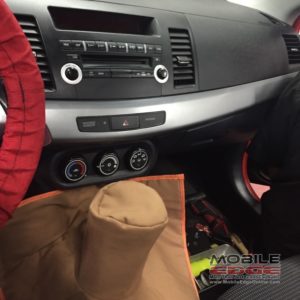 One of our best-known services is the design and installation of a remote car starter system. When you hand your keys over to us, we start the installation process by placing a floor mat and high-quality seat, steering wheel and center console protective covers in your vehicle. Our protection products are made from heavy-duty polyester with a thick vinyl coating to ensure they stay in place. These covers ensure that boots, belts, tools and the products we are installing will not damage your upholstery or interior panels. We ensure that any contact points are protected with painter's tape or crash wrap to prevent wear and possible damage.
Once your vehicle is in the bay, we start our inspection process. We make a note of the vehicle's condition and document anything abnormal on the work order and with our smartphone cameras. If a check-engine light is on, we will hook up our code scanner and record the code for you. You can take that information to your mechanic later. Our surveillance system keeps an eye on everything that happens in the shop to ensure your vehicle is safe and secure, even if left overnight.
Installation Process Care
The next step is to connect your vehicle to a battery charger. Some of our services require that the doors be kept open for a long time. Our charger ensures your battery leaves in better condition than when you arrived. We have a charger for each workstation.
If we have to remove a door panel, we have a carpeted rack to store it safely. We will never slide them under the car or lean them against your paint. Our work bench is also carpeted, so consoles, trim pieces and panels are protected from scratches as we work on them. We have more than adequate room to work on your vehicle. Walls, carts and other vehicles are kept at a safe distance to prevent dents and scratches.
We have a battery tester available to help troubleshoot electrical system problems. A stable and reliable electrical system ensures that your vehicle and its electrical systems will operate reliably.
Process Completion
Once a project is done, we take the time to test the system thoroughly. A second member of our team looks over the project, then reviews the check-in sheet to ensure your car is in perfect condition. Only once both technicians have signed off do we pull the vehicle out and begin the demonstration and training process for our clients.
Mobile Edge Provides the Best Vehicle Care
When it is time to accessorize or upgrade your car, truck, SUV, motorcycle or ATV, bring it to Mobile Edge in Lehighton. Our team of experts will develop a custom solution to meet your performance goals and your budget. From a remote starter or dash camera to a custom sound system installation, our vehicle care process ensures complete satisfaction. Contact us using the button below for more information.