More and more people every year are experiencing the joys of motorcycling. When you add in the fact that a smartphone allows us to carry all of our music with us, you can see why adding an audio system to a motorcycle is becoming getting so popular. Here at Mobile Edge, we have been specializing in mobile audio since 1994, and we are passionate about delivering great-sounding stereo systems. Unfortunately, as motorcycle audio continues to grow in popularity, more and more people who are not professionals are also trying their hand at it and their finished products often leave a lot to be desired. That is why we make the statement:
Motorcycle audio is best left to the professionals
We Specialize In Audio
You see, Mobile Edge doesn't sell chrome parts for bikes, we don't build engines and we surely don't do custom paint jobs. We focus on audio, and we do it well. Our team has more than 40 years of experience in building the best-sounding, most-reliable mobile electronics around. When you decide you want to make your bike faster, you need a performance specialist that understands your engine and drivetrain, and knows how to extract as much performance as possible for your budget. The same holds true when it comes to audio.
We Know Our Products
Do you really want to trust your audio system to a guy who is going to look up parts in a catalog, select what sounds good to him and order it for you? Or do you want someone who know what products work best with each other, and what products will do the best job of achieving the goals you desire?
We Offer The Best Brands
Our team has partnered with the best brands in the business. These are companies that have in-house acoustical and electrical engineers tasked with building the finest-sounding and most-reliable products. Many motorcycle products out there have no real engineering other than how they integrate with your bike. Sure, they fit well and many of them "plug right in," but how do they sound? Not that good, most of the time, since they have to use off-the-shelf designs from their foreign build houses.
Our Attention To Detail Is Unrivaled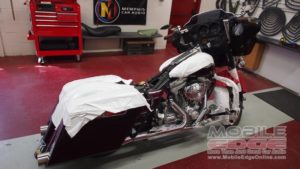 Once you choose the product you want, you need to make sure the installation is done properly so it will last. Our installers are fanatical about attention to detail. They solder and heat-shrink all connections, use stainless hardware, and properly loom and secure all wiring for easy servicing in the future. You see, we know that your audio system will see extreme duty – plenty of vibration, dust and moisture – so our installations are designed to take this abuse for years on end.
Contact The Motorcycle Audio Professionals At Mobile Edge Today
When you are ready to upgrade the audio system on your motorcycle, we invite you to stop by Mobile Edge in Lehighton with your bike. One of our audio specialists will look over your bike with you and listen as you explain your goals for the upgrade. We will offer some of our time-tested ideas and will design a solution tailored to your specific needs. Then we will perform an installation that will give you years of reliable service. Let us show you why we are Pennsylvania's most award-winning mobile electronics retailer.
You can also contact us here for more information about any of our products and services.