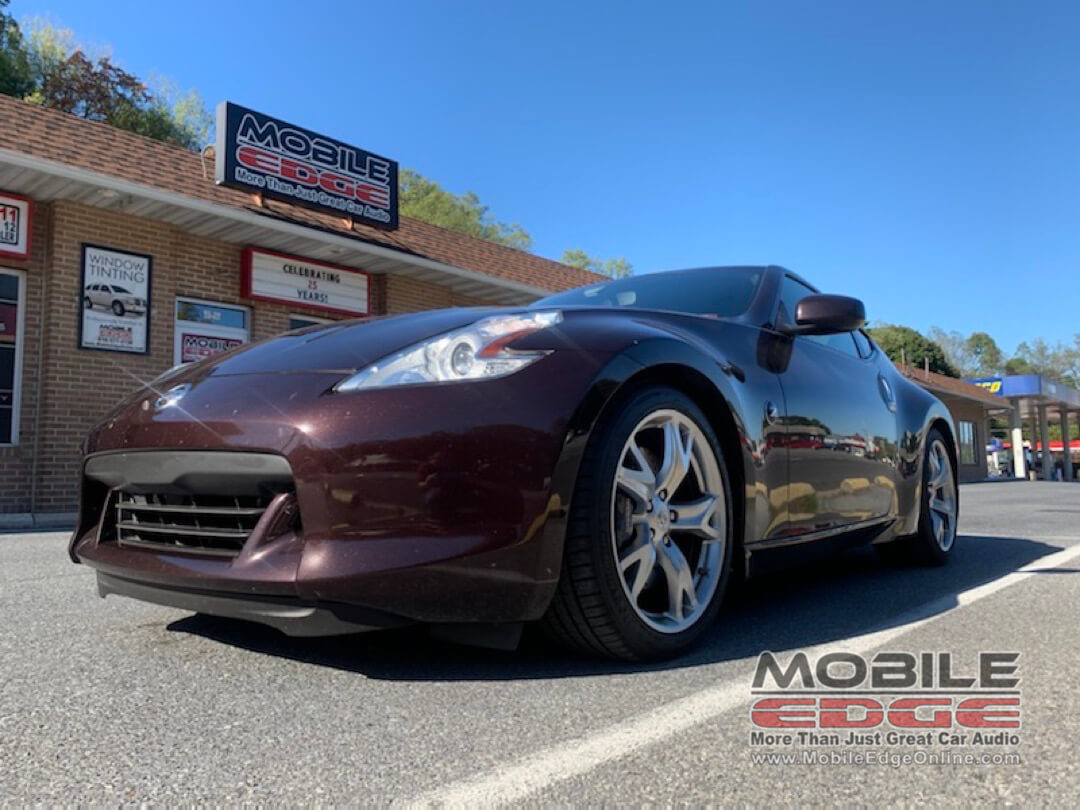 The owner of this Black Cherry 2010 Nissan 370Z recently contacted the team at Mobile Edge to inquire about upgrading the radio and adding a backup camera. The client originally asked for a single-DIN radio and an external screen for a backup camera. Our team showed the client a Sony multimedia receiver that would integrate both solutions and add Apple CarPlay and Android Auto smartphone integration. The client loved the all-in-one solution!
Sony XAV-AX5000 Digital Media Receiver
The client chose a Sony XAV-AX5000 multimedia receiver to upgrade the technology in his Nissan 370Z. This radio has a 6.95-inch touchscreen display that shows which track is playing or which station is playing. Dual USB ports make it easy to play music from a USB memory stick. Built-in Bluetooth handles audio streaming and hands-free calling duties.
CarPlay and Android Auto allow the client to use the voice recognition features of his smartphone to send text messages or make phone calls without having to take his eyes off the road. He can ask for a specific song to be played, or choose music based on an artist or genre. Best of all, if he's planning a road trip, he can get turn-by-turn navigation directions that include allowances for traffic congestion.
We used a PAC Audio ControlPRO2 SWI-CP2 interface to allow the radio to accept volume, tracking and source selection commands from the steering wheel buttons. A Metra dash kit and wiring harness adapter took care of adapting this double-DIN radio to the factory radio mounting locations.
Backup Camera for Added Safety
To address the client's desire for a backup camera, we added a Momento MR-C300 camera to the top of the rear license plate. This camera features built-in LED lights to illuminate the area behind the vehicle. The integrated mounting bracket made it easy to affix the camera to the vehicle and ensure that the lens is aimed properly.
Sound Deadening Adds Comfort
The client mentioned that he could hear a lot of road and tire noise from the rear wheel wells. Since the 370Z is a two-seater, the rear tires are only a few feet from the driver's head. We added a layer of Hushmat sound deadening to the wheel wells while we had the interior of the car apart to run the camera wiring.
Nissan 370Z Radio Upgrade Project
With the radio and sound deadening in place, we let the client know he could pick up his Nissan 370Z. We showed the client how to pair his phone to the radio and demonstrated how the camera worked. He was thrilled with the upgrades! If you're interested in modernizing the technology in your car or truck, drop by Mobile Edge in Lehighton or click the red button below to send us an e-mail.