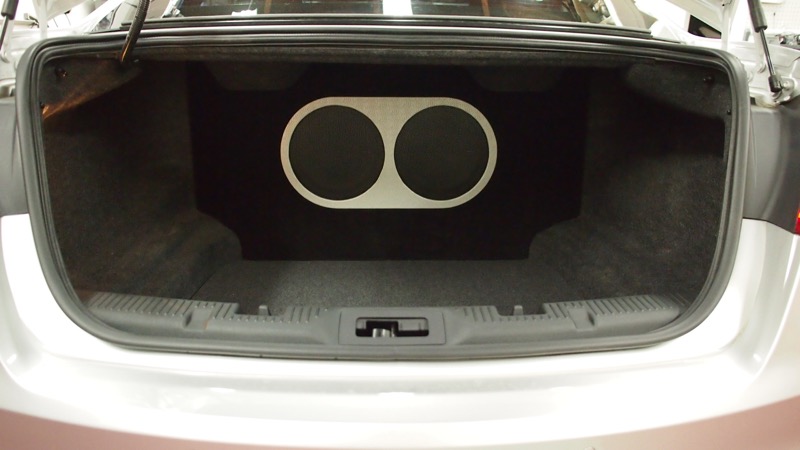 A client from Norwalk, Connecticut, made the trek down to Mobile Edge with his 2014 Ford Taurus SHO after seeing one of our previous build posts for the same vehicle.
As we like to do with all of our clients, we made an audio consultation appointment for the client with our team. His driving goal for the vehicle was improving the lack of any real bass in his music. We spent significant time on going over the vehicle together, listening to the stock stereo system and exploring options for the Ford Taurus upgrade. Once we understood his goals for improving the sound, we spent some time on explaining the benefits of a DSP and additional power. He liked our ideas, so we worked up a proposal for him, which he liked, so we set an installation appointment.
Powerful Processing Packed Inside Audison Amplifier
The heart or core of this upgrade revolves around an Audison AP8.9Bit amplifier. This little guy is quite amazing in its capabilities. First off, hidden inside the diminutive chassis is a nine-channel Audison Bit processor. This does many great things for the audio system. We feed the musical signal coming out of the factory-equipped Sony amplifier that is part of the premium sound system into the Audison amp.
Ford heavily modifies the musical signal in such a way that, if left untouched, would dramatically hurt the final sound quality of this upgrade. They take the musical signal and divide it up into three slices of music – low frequency, midrange frequency and high frequency. The first thing the processor does is sum all of the music back together to make it a full-range, whole musical signal.
Next, the team at Mobile Edge has to address the equalization circuit that Ford adds into the musical signal. In simple terms, Ford tries to save money by using equalization to make their cheap speakers sound good. If we leave that equalization in the music, it will negatively affect the final product, so we strip, or De-EQ, the music. At this point, we now have a full-range, unmodified musical signal, just as the artist intended.
Now that there is a good signal to start from, the AP8.9Bit amplifier also has an eight-channel integrated amplifier so the factory speakers can play noticeably louder. Every speaker in the vehicle also gains a nine-band parametric equalizer that we can use to fine-tune the sound coming out of each speaker, along with adjustable crossovers and digital time delay. When the highly trained staff at Mobile Edge are done tuning each speaker, it is as though new life has been breathed into them. The sound system is much more dynamic and has lots more output, and the sound stages across the top of the dash, giving you the impression of being at a live concert. The Bit processor even has a ninth channel, which feeds to our subwoofer amplifier. This is important, because it allows us to take a whole-vehicle approach to the tuning process, resulting in bass that blends a lot better with the rest of the audio system.
Great Sounding Bass From Hertz Subwoofers
Our client came to us first and foremost looking for bass, so we knew that had to be great. We built a custom enclosure for two Hertz ES300 12" subwoofers, incorporating it beautifully into the trunk of the vehicle. For an added cosmetic touch, we made a custom trim panel, called our Utility Trim Level, for the vehicle. It set off the subwoofers nicely, giving the trunk a look that blended perfectly with the SHO theme of the Taurus.
Hertz Amplifier With Remote Level Control
When it came time for power, we went back to Hertz, choosing their HCP1DK amplifier, which supplies over 1,200 watts to the subwoofers. We flushed an HRC bass level control knob into the lower center console, giving the client easy control over the amount of bass in his music. Never again will this client be lacking in bass!
Metal Amplifier Mounting Rack For Secure Mounting
Mobile Edge prides itself on the quality of our installations. Since 1994, we have always strived to set the standard for quality and reliability. It is for this reason that we built a custom, metal amp rack to hold both of the amplifiers. As you can see in the pictures, we made it out of rectangular steel stock and then painted it flat black. We mounted it securely mounted behind the back seat of the vehicle, making the amplifiers easily serviceable in the future. It is our opinion that your vehicle is made out of metal, so amp racks should also be made of metal. Many shops will resort to using wood because they don't have metal-fabricating capabilities.
Client Loved Concert-Realistic Ford Taurus Audio System
When the client came to pick up his vehicle, he was blown away by the attention to detail in the installation. When we fired it up for him the first time, the look on his face gave it all away. He was thrilled! The music now has a crispness and attention to detail that was lacking before, and the bass came through with authority. It was crisp, accurate and tight, hitting you in your chest, as if you were at your favorite concert.
When you are in the market to upgrade your audio system, we invite you to stop by Mobile Edge in Lehighton, Pennsylvania. OUr team will take all the time needed to understand your goals and aspirations, and then build you a system that best meets your needs. Let us show you why we are Pennsylvania's most award-winning mobile electronics retailer.
You can also contact us here for more information about any of our products and services.