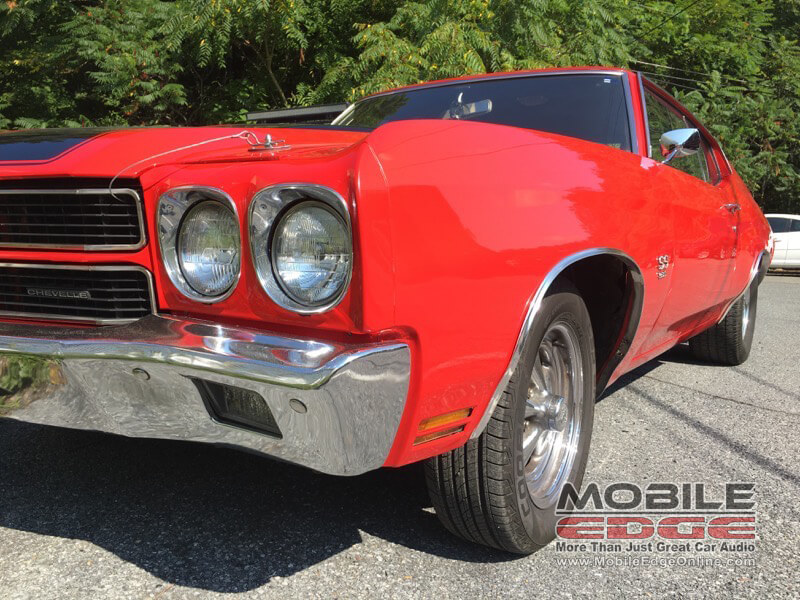 A client contacted Mobile Edge in Lehighton about upgrading his 1969 Chevy Chevelle audio system. We had done work for this client in the past, so he knew we'd be up to the challenge of designing and installing an audio system that would be audible over the background noise in this classic muscle car. We had a look at the car and worked with the client to come up with a way to give him the sound he wanted while still dealing with the previous owner's modifications.
JVC Bluetooth Receiver
As the dash had already been modified, it wasn't too much work to install a JVC KD-RD98BTS CD receiver in it. The new receiver would let him play music from a USB stick, pair a phone for hands-free calling or audio streaming and even listen to Pandora or iHeartRadio. The previous owner had cut up the dash quite a bit, so we created a new trim plate from ABS plastic to give it a clean and tidy look.
Hertz Dieci Speaker Upgrade
Since the rear deck had been cut out for 6×9 speakers, we suggested the Hertz Dieci DCX690.3 speaker set. These speakers sound great and handle a reasonable amount of power. The three-way design of the speakers also helps improve their efficiency, so they'll play good and loud.
The parcel shelf had even more holes in it than the dash, so we created new trim panels for the rear deck and wrapped them in black vinyl that matches the factory interior.
A set of Dieci DCX100.3 coaxial speakers in the front doors improves the audibility of the system in the front seat. We used a set of shallow grilles from a set of Memphis speakers for protection and to allow the window crank to clear.
Amplifier Installation
A Hertz HCP4 four-channel amplifier powers the new speakers. With an available 65 watts per channel, the amp will let the new speakers get good and loud without distorting. New speaker wire was run through the car to ensure each speaker would get a clean signal from the amp.
The Hertz amp is mounted beside the client's existing Power Acoustik subwoofer amp on the metal behind the rear seat. We set up the crossovers on both to ensure the system would sound great and provide smooth frequency response.
Chevy Chevelle Audio System Delivery
With everything dialed-in and buttoned up, it was time to turn this classic back over to the owner. He loved the way his new Chevelle audio system sounds, and it gets more than loud enough to overcome the loud exhaust system. If you are looking for better sound in your classic car, drop by Mobile Edge or hit the contact button below.