When it comes to window tint, one of the most popular films we offer here at Mobile Edge in Lehighton are the 3M Color Stable Film series. Color Stable offers an excellent balance of performance, value and reliability for our discerning customers. Read on as we explain what makes this our favorite premium film solution.
Premium Quality and Reliable Performance
This film uses a unique nano-carbon polyester construction. Because the nano-carbon is dispersed evenly through the film, there is no chance of it turning purple over time. Unlike metallic films, this premium series of dye-based films will not affect cell phone, GPS or satellite radio reception. The Color Stable series of films also offers excellent glare reduction. The very popular CS20 shade reduces glare by 79%.
Durability and Longevity for the Long Haul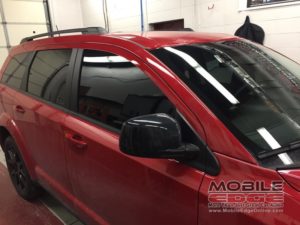 Color Stable films not only look great, but they are tough and durable. This series of films resists scratches from dirty window felts and cleans better than most other films. If you have purchased your vehicle and want a film that will look amazing for years, then Color Stable is a great solution. 3M and Mobile Edge stand behind each installation of Color Stable with a Lifetime Warranty against peeling, bubbling, cracking, fading or the film turning purple.
Protect your Skin from Harmful UV Rays
Blocking the transmission of UV energy into your vehicle with Color Stable film is like wearing a suntan lotion with an SPF (Sun Protection Factor) of more than 1000. This film offers 99% UV rejection to protection your skin, and prevents the leather or fabrics in your interior from fading.
Color Stable also offers superb IR energy rejection. Just like the orange lamps at a fast food restaurant, IR energy from the sun heats your car interior. Color Stable films block between 49% and 77% of IR energy, depending on the shade.
A Great Film with a Great Look
Some window films have a gray or blue look to them once installed. The 3M Color Stable film is considered one of the 'blackest' window tint films available. If you want a rich, dark look for your vehicle, then this is the film series for you.
The appearance of CS20 is perfect for clients that want a film to match the privacy glass on the rear windows of their trucks or SUVs.
Experience 3M Color Stable Film at Mobile Edge Today
Drop into Mobile Edge and ask to experience our interactive film display. We can show you what the 3M Color Stable film looks like, how well it blocks heat, and how it handles the day-to-day abuse better than the rest. For more information about our window tinting services, e-mail us using our online contact FORM.