If you are looking for an amazing audio system upgrade for your Volkswagen Golf, BMW or Mini, drop into Mobile Edge in Lehighton and ask us about the Audison Prima Sound Packs. Audison has created vehicle-specific upgrade solutions that fit perfectly into these vehicles and sound great!
BMW and Mini Audison Prima Upgrades
If you own a 1 through 7 series BMW sedan, a Z4 roadster, an X1, X3, X4, X5 or X6 SUV or almost any Mini, the new Audison Sound Packs offer tiered upgrades for a dramatic improvement in system clarity and detail. The online configurator makes mixing and matching components easy. Let's say you have an E92 chassis code 3-series BMW (coupes from 2006 to 2013). Let the configurator know which factory sound system you have (Base, Hi-Fi or Top Hi-Fi), and then pick your upgrade level (from 2 to 10).
The Level 2 upgrade suggests using the APBMW K4E speaker set. If you want more, the Level 10 system includes an AP8.9 bit amp, APBMW K4E front speakers, APBMW X4E rear speakers, APBMW S8-4 subwoofers for under the seat, and a special wire harness called the APBMW ReAMP 1. We use the special harness to make the installation neat and tidy. Thanks to the preset tuning curves provided by Audison, we can have your BMW up, running and sounding amazing in about a day.
Audison Prima Sound Packs for Volkswagen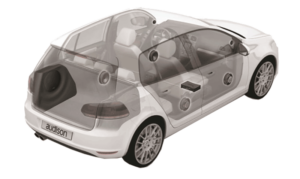 If you have a sixth or seventh generation Golf, the APSP G6 and APSP G7 systems include an AP8.9 bit eight-channel amplifier, front speakers and a subwoofer. The APSP G6 includes new front tweeters as well. The amplifier includes crossover and equalization curves designed to work with the complete system to create smooth and natural sound with your choice of three different frequency response curves.
Upgrade Your Audio with Audison
If you own a Golf, BMW or Mini, check out the Audison Prima Sound Packs using their online Sound Pack Configurator. Then drop by Mobile Edge in Lehighton. We'll get everything installed and tuned to ensure your music sounds amazing. For more information, click the button below to send us an e-mail.