Here at Mobile Edge, we are always on the lookout for the latest innovations for our clients. The new Compustar P2WT11 (T11) remote is a leap forward in remote technology, and it could be a real problem-solver for some remote start and security installations.
Waterproof And Rugged
For starters, the P2WT11 is the industry's first IPX7-rated waterproof LCD remote, with rubber-sealed trim and buttons that will keep water out for over 30 minutes at a depth of more than 3 feet. Even the USB recharging input is waterproof. You have a 5.5-button remote with interactive two-way LCD display and an intuitive, easy-to-see display of all the available functions. It also has a rugged case with steel-reinforced plates under each button. If you are hard on a remote, or work or play in tough or wet environments, this remote will be worth the investment even before you consider the technological advantages.
Incredible 3 Mile Range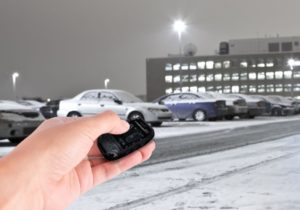 Compustar has already been known for the best ranges in the remote start and security industry, with achievable ranges of a mile-plus. The bar has now been raised to up to 3 miles, or what we called 30x Power Range. This is thanks to the  innovative hybrid-frequency technology used by the T11. Range is greatly improved around buildings and areas with other electronic interference – very helpful when you are trying to cool off your vehicle on a 100 degree-plus day, or warm it up when lows are zero or below. With the new built-in remote temperature display on the remote, you will know the temperature inside your vehicle and can always allow time to reach a comfortable temperature.
Vehicle Monitoring
Since this is a two-way remote, it will communicate with the security system and remote start on your vehicle. You will get start confirmation and can monitor other vehicle and security information from the remote anywhere within range, including the current temperature in the vehicle – another reason that the extra range can be worth the investment.
Come See The Compustar P2WT11 Remote Today
Come on by Mobile Edge and let our expert sales and installation staff show you the rugged Compustar P2W T11 remote and all of the remote start and security options that will work for your vehicle.