Mobile Edge in Lehighton, Pennsylvania, caters to anyone interested in making his or her car audio system sound better. From a simple speaker replacement to a complete custom audio system, our team of expert technicians can handle whatever you can dream of.  One of our popular amplifier, speaker and subwoofer brands is Hertz of Italy. Since 1998, Hertz has been creating amazing-sounding products for mobile electronics enthusiasts all over the world. Let's take a closer look at the Mille Pro speakers and subwoofers from Hertz.
Ancestry and Design
The premium Mille Legend speakers have long been a staple of sound quality in the mobile electronics industry. Hertz has taken many of the technologies and features found in the Legend series speakers and applied them to the Pro Series. The Mille Pro Series takes features like the V-cone technology and makes them accessible to a wider audience at a more-aggressive price point.
The Mille Pro speaker offerings include four raw drivers, two sizes of coaxial speakers, five component speaker sets and four different subwoofers.
Technologies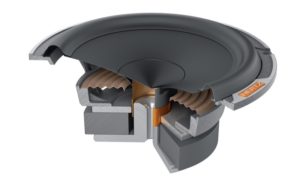 One of the best-known technologies used in the Mille Pro series is called V-cone. This technology refers to the nearly perfect exponential profile of the woofer and midrange cones and the associated dust cap. Hertz claims that V-cone offers excellent dispersion.
Another well-known feature is the Hertz Boundary Free Surround. Constructed from IIR butyl rubber, this surround design works to maximize woofer cone area while providing a smooth transition for excellent linearity at higher drive levels.
Mille Pro tweeters use a 25 mm Tetolon soft-dome design for wide and linear frequency response. A center tuning duct and sealed rear chamber contribute to reduced distortion and a lower resonant frequency. Mille Pro subwoofers are available in 10- and 12-inch sizes with dual 2 and dual 4 ohm configurations.
Hertz Mille Pro Speakers: Value and Performance
If it's time to take your mobile entertainment system to the next level, then drop into Mobile Edge and audition the Mille Pro speakers. We think you will not only be impressed with their performance but also impressed by their value. You can reach us by e-mail, using our Contact Form, for more information.