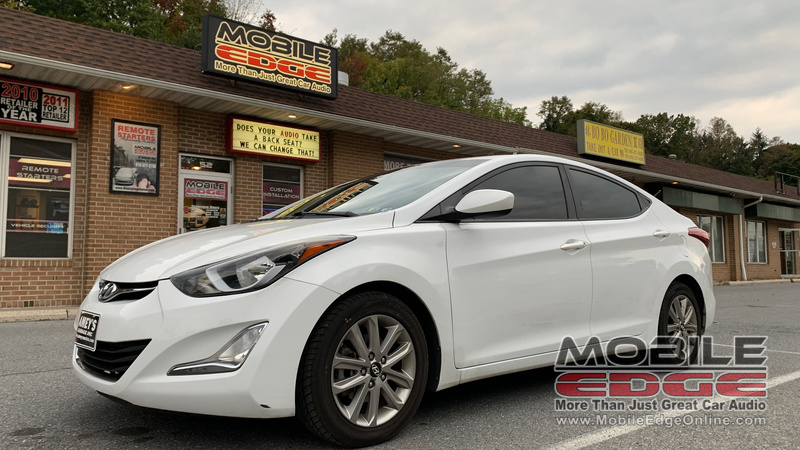 A client here in Lehighton recently contacted our team at Mobile Edge to ask about a new radio and window tint for their 2016 Hyundai Elantra. The client wanted a radio that included smartphone integration, like Apple CarPlay and Android Auto, so they could communicate safely while driving. They also wanted the windows tinted with a high-quality heat-rejecting film to make the vehicle more comfortable. 
Hyundai Elantra Radio Upgrade
After showing the client several radio options, they chose a Sony XAV-AX4000 digital media receiver for the vehicle. This radio has a clear, bright 6.95-inch touchscreen display and a row of buttons along the bottom of the chassis. The radio includes wireless Apple CarPlay and both wired and wireless Android Auto, so they can use the voice recognition features no matter which phone they have.
We used an iDatalink Maestro RR interface module to integrate the radio into the vehicle. In addition to steering wheel control radio button connectivity, the RR also allows the Sony radio to monitor and display dashboard information. The backup camera could also be used with the new receiver to make parking and maneuvering much safer.
We used a Metra radio installation kit to mount the Sony receiver in the dash and added a remote USB connector to the center console. The connector has a USB-C as well as a USB port. The client can connect a USB memory stick to play digital audio files.
Premium Window Tint Adds Comfort
The client and our team discussed the 3M tint films we offer, and they chose the heat-rejecting Ceramic IR to help keep the vehicle's interior comfortable in the summer. Our team uses a computer-controlled plotter to cut all the film we install to eliminate the chances of the windows or trim being nicked or scratched. We tinted the side and rear windows with a nice dark 15% film and added a 5% sun visor strip across the top of the windshield.
Carbon County's Best Car Audio Upgrades
After about half a day's worth of work, we had the radio and tint installed on this clean white Elantra, and we were ready to return the vehicle to the client. We helped them pair their phone to the radio and explained how to use the voice recognition features. We reviewed the nationwide warranty that 3M offers on their products and explained how to care for the tint to ensure that it won't be scratched.
If you're interested in a radio upgrade or window tint, we invite you to drop by Mobile Edge in Lehighton and talk with one of our product experts. We'll help you choose the perfect solution for your application. If you can't get to our store during regular business hours, give us a call or send our team an email by clicking on the icon below.
[59165]